iGaming Tracker: Megaways
| By Stephen Carter
Megaways games have taken the market by storm since being launched in 2016, the real step change coming two years later when Big Time Gaming started licensing the underlying mechanic to other developers. Ken Muir tracks the growth via games launches and the licensee roll-out and also looks at how titles built on the mechanic have grown their market share on operator lobby pages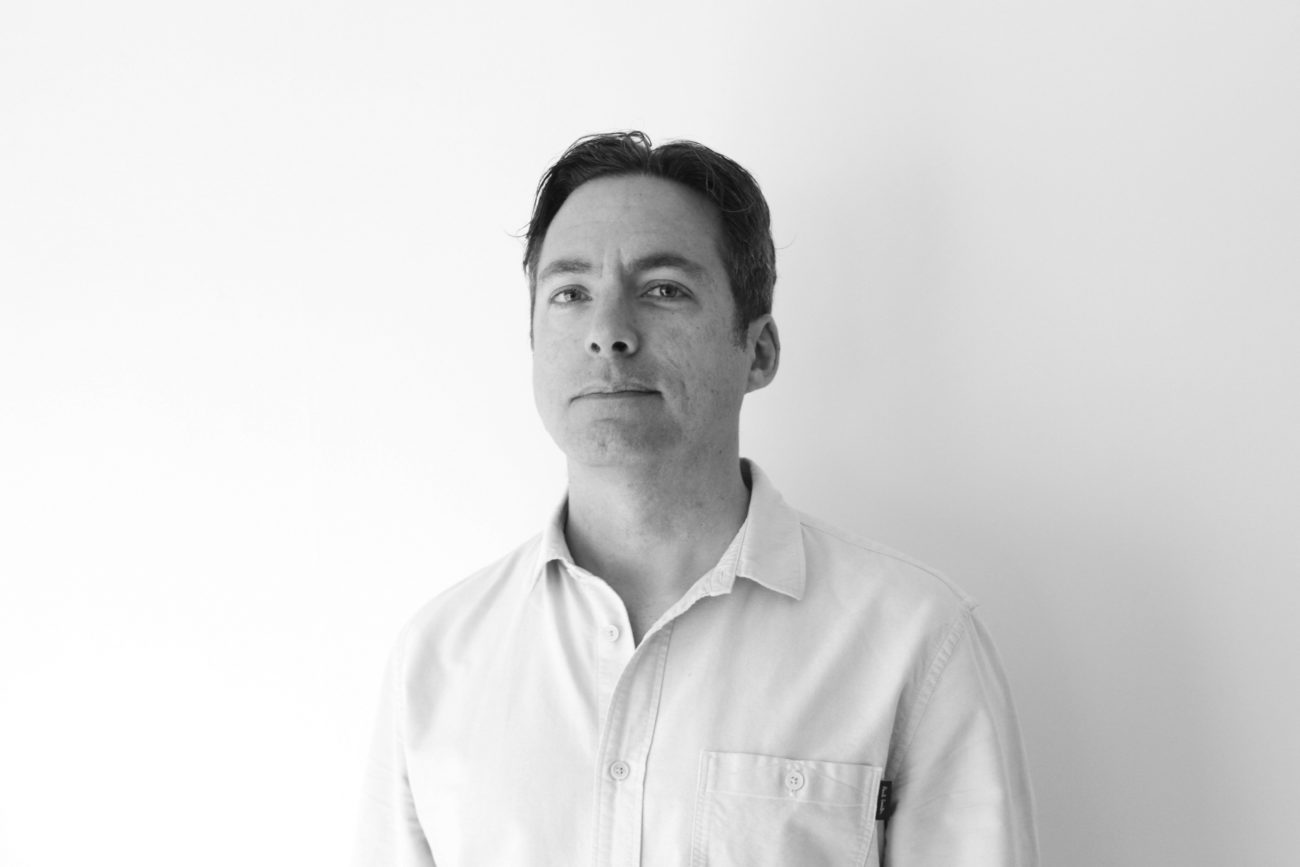 Megaways games have taken the market by storm since being launched in 2016, the real step change coming two years later when Big Time Gaming started licensing the underlying mechanic to other developers. Ken Muir tracks the growth via games launches and the licensee roll-out and also looks at how titles built on the mechanic have grown their market share on operator lobby pages
Big Time Gaming (BTG) launched the innovative new format of Megaways casino slot in 2016 with Bonanza.
A random reel modifier system which sees a totally different range of symbols produced across each spin, the mechanic allowed players to experience a totally different game with every spin.
The huge success of Megaway games such as Bonanza and Extra Chilli added a new dimension to the real-money slots market.
BTG's next significant step was to license the mechanic to other developers, Blueprint becoming the first to launch in April 2018, followed a year later by Red Tiger and Storm Gaming.
Since then a growing number of suppliers have launched games based on the Megaways mechanic.
Growth in Megaways games
The graphic below shows the growth of Megaways games.
The colours denote the suppliers who have licensed the mechanic since 2016, with the size of their bar reflective of the number of titles they have launched in each quarter.
There has been a marked increase in game launches as well as an increase in game suppliers since 2016.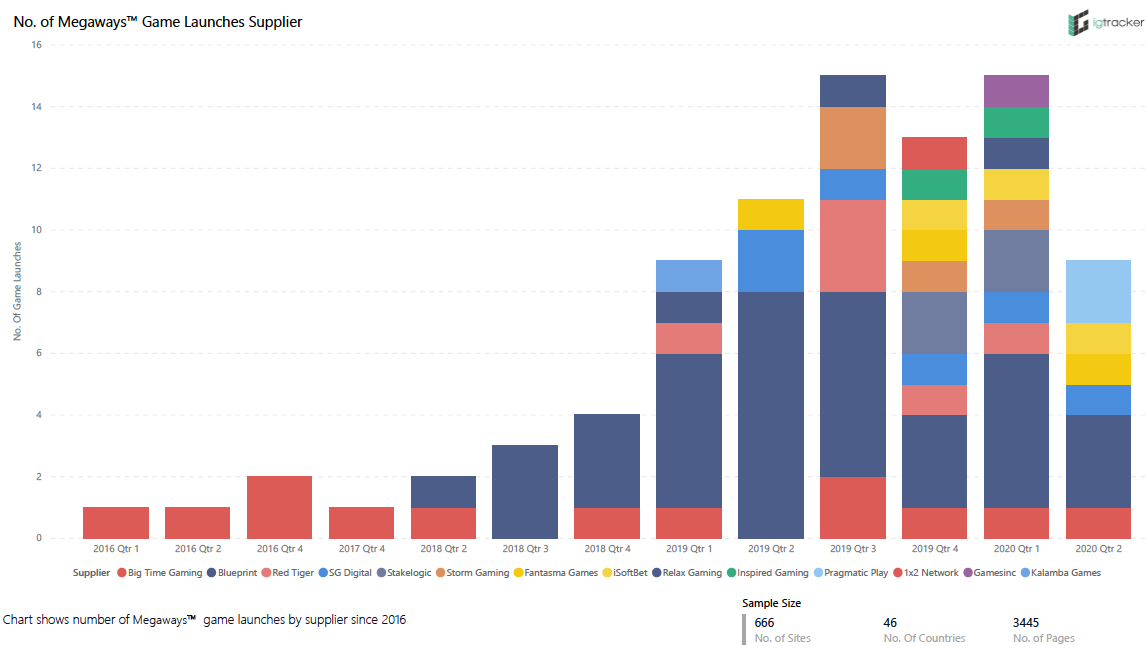 The launch frequency of Megaways games has meant there has been steady increase in the volume of games available to customers.
The graphic below shows how the volume of games has increased over time as more titles are launched each quarter, again broken down by supplier.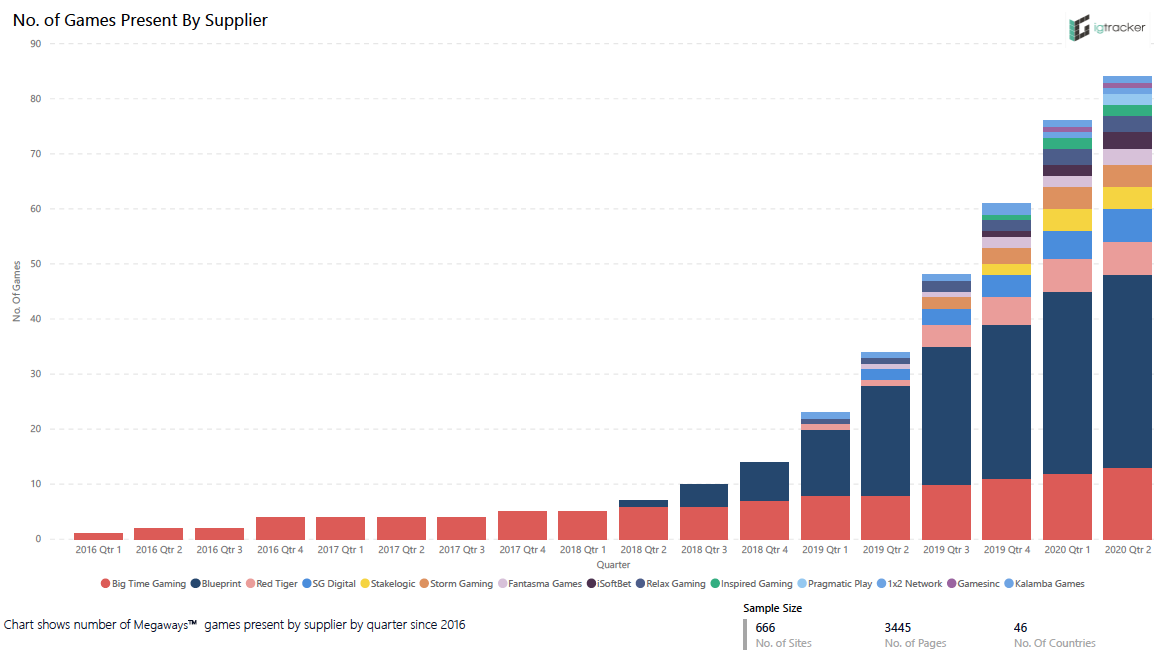 Content share – Big Time Gaming and Blueprint still dominate
The graphic below shows the content share of Megaways titles in the 12 months to June 2020. Content share is calculated as the proportion of aggregated daily positions of Megaways games.
With a sample size of over 300 sites you can see from the visualisation that the majority of content of Megaways games are produced by BTG and Blueprint.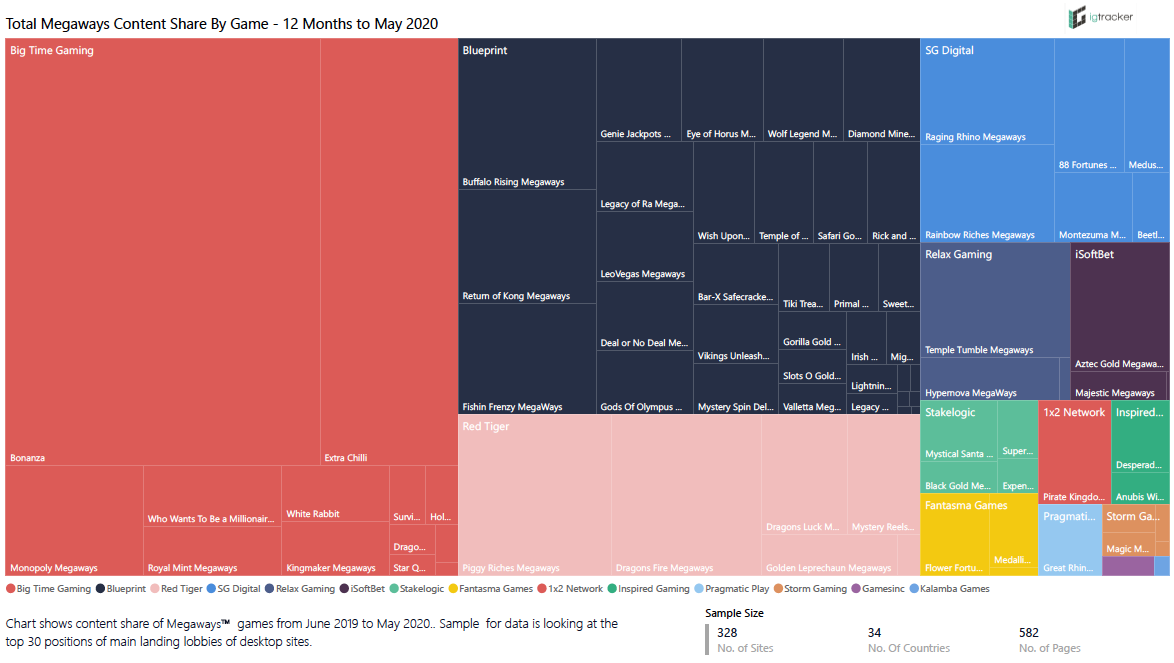 Share of Megaways games vs other slots/jackpot games
The visualisation below shows the share of slots vs Megaways games in H1 2019 vs H1 2020. The sample is of nearly 500 sites worldwide, looking at the main landing lobbies of the sites only.
Many of the sites will not offer Megaways slots, however the graphic clearly illustrates that the share of Megaways-based games has increased substantially, almost doubled, when compared with other slots/jackpots.

Megaclusters
In June 2020 BTG launched a new trademarked mechanic, Megaclusters, launching Star Clusters in June 2020 for an initial exclusive period to Flutter-owned sites.
We will be watching closely to see if it can emulate the success of Megaways and if the mechanic is then licensed out to other suppliers.

All data from iGaming Tracker – how it works
iGaming Tracker tracks hundreds of casino sites worldwide every day. From this data it can ascertain which games are on which sites and where they are positioned on the pages. It can also measure the market share of casino games suppliers by percentage of "real estate" on casino sites at any given date. For more information visit www.igamingtracker.com or email [email protected]