iGB Diary: men of many talents, mascot mix-up and mad men
| By Joanne Christie
This week we explore gaming execs' side careers, take aim at the industry's 'mascot', ponder poker in schools and reflect on Betway's new ad men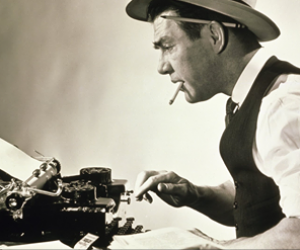 This week the Diary explores gaming execs' impressive side careers, takes aim at the industry's 'mascot', ponders poker in the classroom and looks at the reception to Betway's new ad men.
Renaissance men
While doing some final checks for our fantastic new e-zine on Sweden (read it for free here) a Google search for Mr Green Ltd CEO Jesper Karrbrink brought up a snippet for a writer with the same name. Or so we thought. But the author in the accompanying images looked incredibly similar in appearance, nay identical, to our Jesper Karrbrink. Further investigation revealed that they were indeed one and the same. Not content with becoming Sweden's youngest ever newspaper CEO aged just 28 and having successful stints running companies including state monopoly Svenska Spel under his belt, Mr Karrbrink has somehow also found the time to carve out another successful career as a crime novelist and writer of management tomes, while the rest of us mere mortals struggle to pass muster in just one vocation. One of his novels, Deadly Exit, was even made into a 2006 movie, Exit. So a real Renaissance man then, our Jesper, (cue deferential forelock-tugging from us humble hacks). Our next podcast interviewee Joe Saumarez Smith runs him pretty close, though. Check out his Wikipedia here and look out for the podcast when it goes up on the iGB site at the end of the month.

Last Leg gets mixed up
Watching last Friday night's episode of Channel 4's Last Leg, we were somewhat confused by the examples given by the show's presenters in a segment on football mascots. The team were highly critical of the fact that West Brom's mascot is now "Boiler Man", a nod to its new sponsor Ideal Boilers and on this point they weren't alone – a number of football fans have been similarly unimpressed. As host Adam Hills quite rightly pointed out, Yokohama sponsors Chelsea and its mascot isn't a tyre. Curiously, he then moved on to what would happen if all the online gambling companies that support football teams insisted on their own product as a mascot and this is where it stopped making sense. He suggested the mascot would then be a repossessed house and to illustrate the point, out came a dancing repossessed house mascot (notably there had been no tyre mascot paraded around earlier). Ideal does sell boilers. Yokohama does sell tyres. Online gambling companies do not sell repossessed houses. And given that Gambling Commission figures show that problem gambling affects less than 1% of the UK population and that UK Finance reported last week that repossessions of houses were at an all-time low, we'd be willing to bet that broken boilers and blown tyres are actually a far bigger problem for Ideal and Yokohama customers, respectively, than repossessed houses are for online gambling customers.
… and so does release on schoolchildren playing poker
While the Last Leg's dancing repossessed house might have been a perfect example of how badly the igaming industry is viewed, we're not sure a press release put out this week recommending schoolchildren are taught poker will do much to help. Not only does it not seem likely that the general mood towards gambling in this country right now would support classroom poker games, but the release itself has to one of the least credible we've seen. Sent on behalf of Paddy Power – although this wasn't immediately clear to us given its headline of 'With only one in four adults knowing how to play poker, schools suggest introducing games to the classroom' – we are first told that Paddy's research found that "only a quarter of adults know how to play poker and those that do have a sharper intelligence" (would love to know how this sharper intelligence was measured). It then goes on to say, "therefore, Christian Heinrich, Chairman of the Boarding School Association, believes children should be encouraged to play poker and that lessons can be learned". Helpfully, there's a link to an article where Heinrich was quoted in The Telegraph's education pages recommending children climb trees, drive go-karts and yes, play poker. Here's the thing, though. The article is from 2013. And shortly after it was printed Heinrich was replaced as chairman. So it seems unlikely he did take a look at Paddy Power's recent research and therefore recommend anything of the sort. Paddy Power might want to reconsider its contract with the agency that put this out.
Mad men
Speaking of changes in agencies, it seems the increasing scrutiny over gambling advertising has not deterred ad giant Saatchi & Saatchi from taking over where Above & Beyond left off at Betway. The creative agency will produce multichannel ad content across the UK, Ireland, Italy, Germany, Belgium and Spain with Betway's £89.5m marketing spend. According, to the operator's statement on the deal: "Saatchi & Saatchi will work towards a major global campaign launch and regional roll out in 2019." The news did not please one advertising commentator. Writing on the More About Advertising website yesterday, former Marketing Week editor Stephen Foster poured scorn on the agency's decision to get into bed with a gambling company. "You can't blame agencies for lapping up the bookies' shillings – and Saatchi seems to be on a roll at the moment, stung, no doubt, by losing the Asda account," he taunted, before getting serious…"but these companies are driving a coach and horses through so-called UK ad regulations". Eeeeeeeeek. Foster was evidently less than impressed by gambling firms "carpet bombing every sports broadcast around". Turning his attention away from Saatchis he took aim at Sky Bet, which he complained "runs them wall to wall through daytime football and cricket". Sky Bet, he added, "is the grossest of the lot". Foster, we can only assume, is not a fan of regulated betting markets. Having completed his Sky rant he dropped in a line catastrophising about the PASPA repeal. "Sports betting has now been legalised in the US, God help them". God help them indeed. Unless a major supermarket chain is about to drop Saatchi's US office I guess?