Hippodrome co-founder Jimmy Thomas dies aged 88
| By Marese O'Hagan
Jimmy Thomas, president and co-founder of London's Hippodrome Casino, has died aged 88.
Thomas died at the London Clinic on 30 July after a short illness.
He leaves behind two sons, Simon and Jordan, and two daughters, Lisa and Carla, along with seven grandchildren and three stepgrandchildren.
Thomas opened his first casino in Leicestershire in 1956, which was followed by casinos in Nottingham and Derby.
In the 1960s he founded Thomas Automatics Co Ltd, which supplied amusement and leisure equipment. He then went on to found more companies, including Showboat Entertainment Centre Limited and Beacon Entertainment Limited.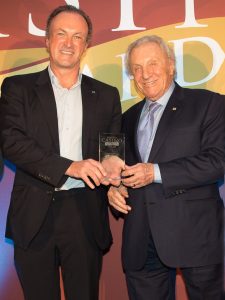 A number of these companies were sold to The Rank Organisation in 1987, while others were demerged. The demerged companies came under the umbrella of a new business, Thomas Holdings Limited.
Jimmy Thomas acted as chief executive of Thomas Holdings, while son Simon was managing director.
Thomas Holdings companies Thomas Estates Limited, which trades as Showboat Amusement Centres and Beacon Entertainments Limited (trading as Beacon Bingo and Social Clubs) operated until they were sold in 2006 to Mayfair Acquisitions Limited.
Following this, Jimmy and Simon Thomas opened the award-winning Hippodrome Casino in Leicester Square in 2012.
"My father achieved enough for several lifetimes and was respected the world over for his business leadership and pioneering vision," Simon Thomas said.
"I had the privilege of his advice and guidance not only as a business partner but as a son. He was one of a kind and will be greatly missed by his family, many friends and staff members."
Jimmy Thomas was a member of many industry bodies. He was a life member of the British Amusement and Catering Trades Association (Bacta) and was the vice president and chairman of the Bacta Charitable Trust.
In 2013 he received a Lifetime Achievement Award from the Casino Association. He also received a Lifetime Achievement Award in 2019 at the British Casino Awards.