Affiliate Monitor – February 2020
| By Joanne Christie
In this edition of iGB's quarterly report we look at results from the final period of 2019, which lay bare the huge impact of both regulators and Google on the affiliate sector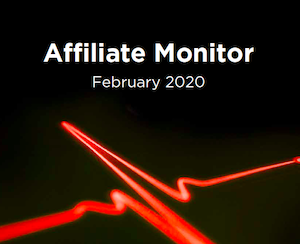 Results from the final quarter of 2019 laid bare the enormous impact of both regulators and Google on the affiliate sector.
Though the increasing compliance demands from authorities in countries such as the UK and Sweden have in the past undoubtedly favoured the big players such as those featured in this report, they are now beginning to take a toll on these affiliates too. This is particularly true in Sweden, where the opening up of the regulated market hasn't been quite the boon many hoped for.
A first look at the new Germany gambling treaty has understandably caused concern among the sector, with some interpreting the proposed wording as outlawing affiliate activity altogether.
However, while the sector is clearly under pressure, there are some bright spots. Better Collective continues to outperform its peers, with its growth in revenues and NDCs bucking the declining trend elsewhere.
Though it has not yet overtaken market leader Catena Media on revenues, it has taken the lead on NDCs and its recent move into esports could further strengthen its position.
But while its revenues and NDCs may be on the slide, Catena is clearly still getting something right judging by its resilience in the face of the Google updates that wreaked havoc on some of its competitors.
While the changes made by the search giant left XLMedia reeling, Catena said its sites were performing well, with insiders theorising this was largely due to its 'hero' brand AskGamblers.
XLMedia was not the only affiliate impacted by Google's algorithm changes – Gambling.com and GiG's media services division also took a hit, though both said they'd made changes to counteract the fall in their rankings.
We hope you enjoy this report and find it useful. Should you have any suggestions or feedback please don't hesitate to email me at [email protected]
Stephen Carter
Editorial director, iGB
If you can't use the Flash player below you can download the report here.
​