Branded: the case for licensed content
| By Kevin Dale
|

Reading Time:

5

minutes
What's the value of licensed content and how can studios make it work? Kevin Dale takes an in-depth look at branded games
First up a few headline stats: in July 2021, 440 branded games from 75 studios were found across 630 of 1,000-plus sites monitored. Of 16,500 unique games found on operator sites, the 440 branded titles represent just under 3% of the total.

Playtech produces the most branded content and there's more to come after their recent partnership with AMC, owners of franchises The Walking Dead, Bridezillas and Marriage Boot Camp.
SG Digital, Blueprint, IGT, Microgaming, Evolution/NetEnt, MGA, Gaming Realms, Skywind and iSoftBet make up the rest of the top 10, in terms of branded output (see Chart 1).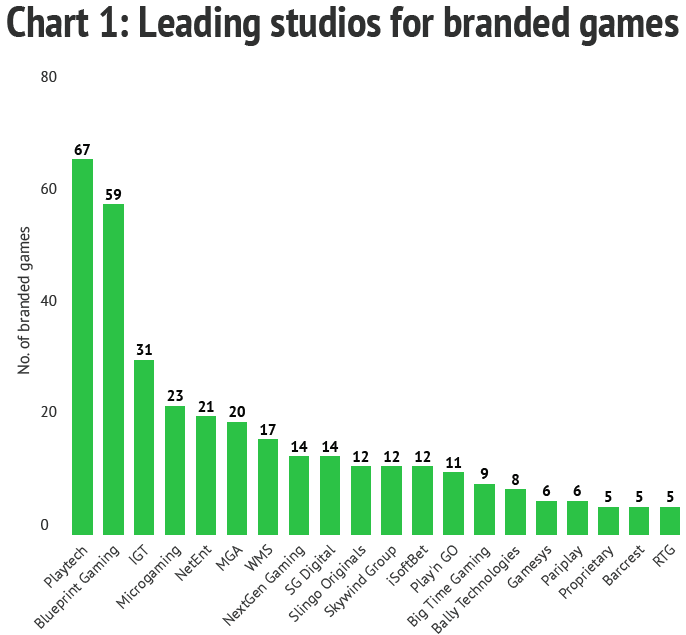 If we look at the best-performing games, measured by their distribution across operator sites, NetEnt/Evolution come out on top, accounting for over half of the top 20 branded games (see Table 2 below).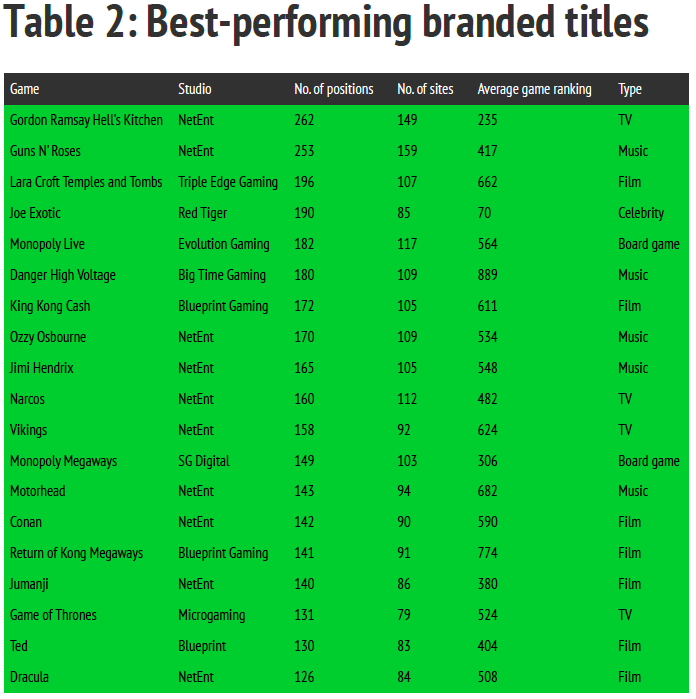 Note that we are defining branded games as those where content such as a name, logo, character or imagery is licensed from a third party. Not included though are the 'ways'-type brands, whereby a mechanic is licensed, such as Megaways. This will be the topic of a later article in the series.

We have also excluded operator-branded content, such as a proprietary roulette, a branded Megaways from Iron Dog Studios or branded variations of games, such as William Hill Hyper Strike from Gameburger Studios/Microgaming. Similarly, we have excluded in-house brands such as "Age Of The Gods…", "Book Of…", "Rainbow Riches…" and so forth.

Finally, we exclude content where the brand either has no owner or the original brand licensing rights may have expired, such as Alice in Wonderland, Sherlock Holmes, Spartacus or Robin Hood.

Why launch branded casino content?
Whilst many have 'had a go' at producing branded content, only a handful are prolific producers and/or successful at securing distribution for their games. Given there's another mouth to feed here (and royalties will range from 3%-15% of GGR), what is the rationale behind branded content and how is it best achieved?
Branded content is a door opener – it will secure more and better distribution in a crowded marketplace. When 450 games are launched each month and operators can be 'picky', branded games will stand out. They are more likely to feature on the new games category for longer and will even grace the 'branded' or film/TV thematic tabs, where these exist.

With nearly 500 studios offering casino content, branded products can create real differentiation. Whilst the big boys seem to dominate in terms of output, many others have dipped their toe in to branded waters. Arguably, the value conferred by a big brand is of more benefit to the smaller studio than the major supplier groups.
Brand association is viral too with operators basking in the reflected glow of third-party trademarks. The game itself must still produce results but it will be afforded more time to shine. A handful of operators take this idea to the next level by commissioning their own exclusive branded content or building it in-house (Entain, 888 and Gamesys, for example).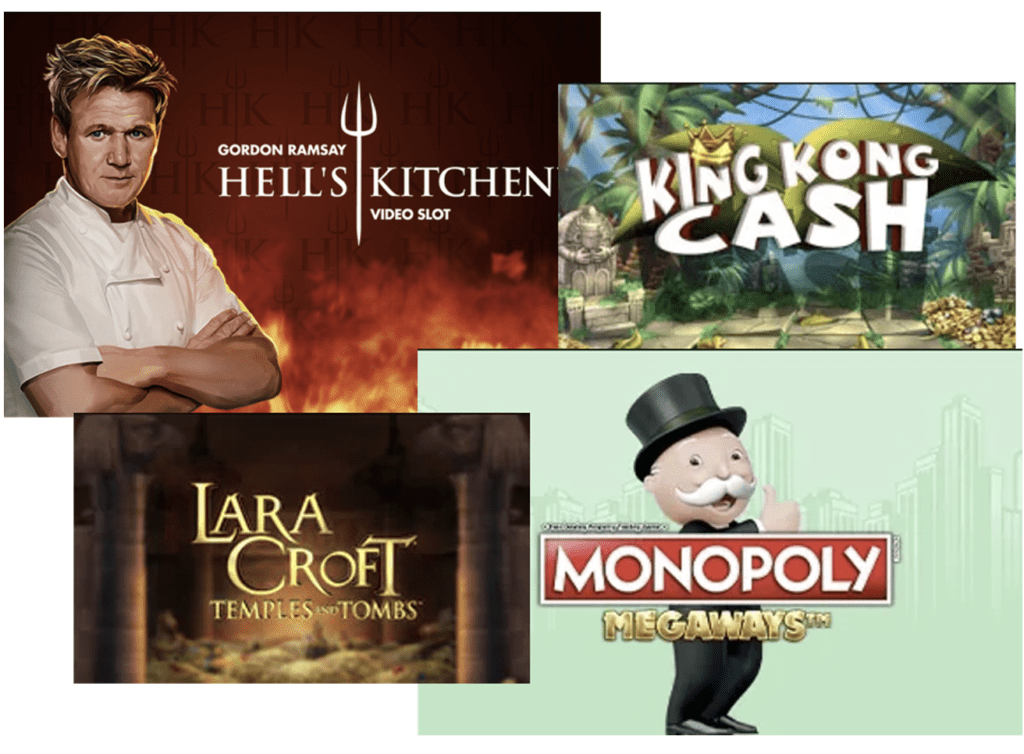 How to license a brand and which brands to choose?
The process for finding, licensing, developing and launching a branded product does take time and some brands will only work with large established companies. Having licensed content from the likes of Square Enix, however, even as a small studio, is certainly within the reach of most.

Finding the right brand that is both willing to work with a gaming company and/or with you is the first step. A trip to one of the handful of expos such as Brand Licensing Europe or a leaf through the brand properties on licenseglobal.com is useful. Alternatively, you might draw up your own shortlist of desirable brands and either approach the owners directly or hire an advisory firm to do the legwork.
Charts 3 and 4 below compare the types of brand properties used globally vs those used by gaming companies. There are similarities, though a higher propensity for gaming studios to associate with brands in the film/TV/entertainment, board games, video games and music categories.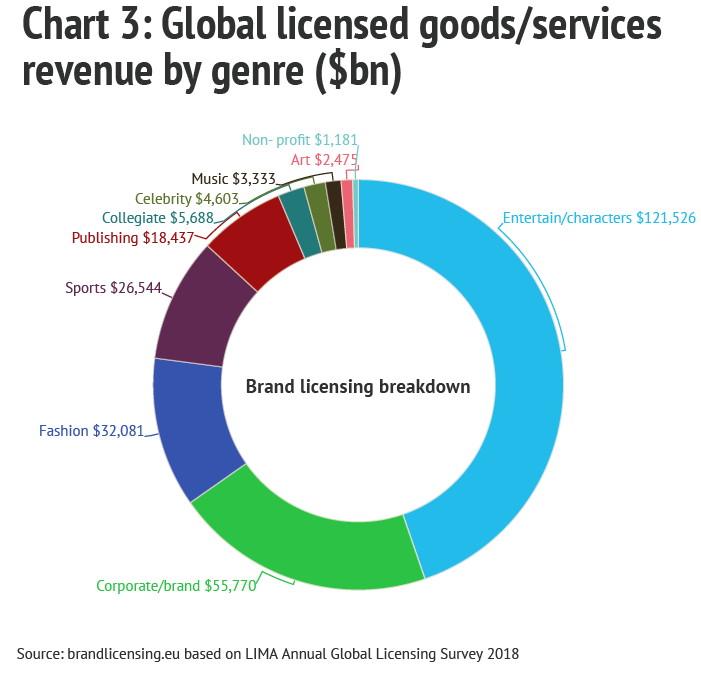 In our space, bookmakers sponsor most things with two or four legs, yet in the casino sector brand association is still limited. There are literally hundreds of brands that would resonate with end-users and outside of Hasbro, DC/Marvel and a few blockbuster films, brand licensing is underutilised.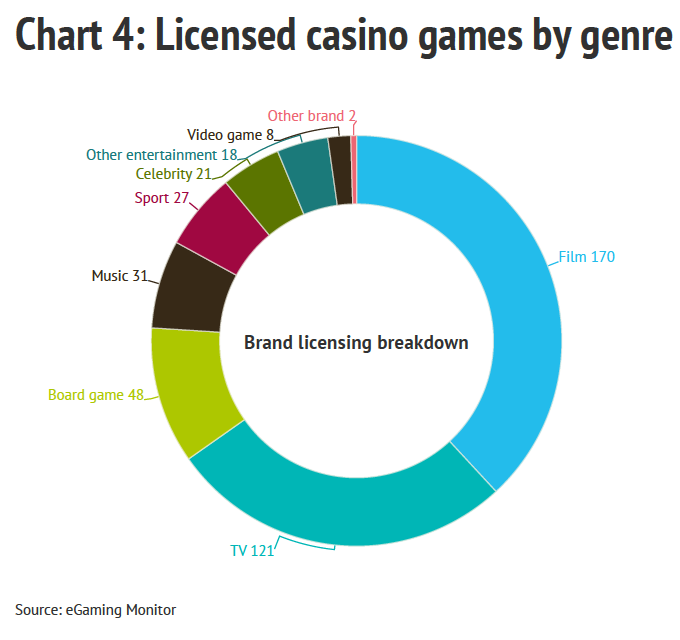 Crucially, the brand partnerships you shortlist should match the values of your company and your target end-users. Target is the key word here – if you're looking to change perceptions or break into a new market, brand licensing can work well. Note how Tik Tok, long the preserve of short clips from Gen Z, has broken into longer form content and new markets via its sponsorship of the Euros, for example.

Research a prospective brand's own customer profile, evaluate its awareness and perception amongst your own target group and its perceived brand values too. If these all match well to your own core values and your new game, you're on the right track.

A review of how slots consumption breaks down by theme is both revealing and relevant to the process of finding brands too – at Egamingmonitor you can analyse game performance by 70 themes, for example.

If you were to take a look at top-performing games by page position, smaller studios such as Gaming Realms and MGA come to the fore. Gaming Realms have particular experience as both licensors of their own Slingo mechanic and as licensees of third-party brands. MGA meanwhile have carved out a niche of branded games based around Spanish TV celebrities, which resonate well in their target market.

What's the business case for branded slots?
In return for greater exposure and higher page positions, you are paying out a % of revenues to a third party. When that trade-off is net positive, happy days. The average page ranking of branded games is twice as good as that of non-branded games, i.e. there is real evidence for higher exposure, which itself is a proxy for market share and revenue potential. How this translates into revenues though will vary by studio, depending on its profile of operator sites.

There are time costs associated with securing brand rights and involving third parties in the game development process. Add to the mix some additional marketing costs plus the agreed royalty share to your business model. Many brand owners will also require some minimum revenue guarantees and this is where the most risk lies.

Using typical new game revenue profiles as a base you might play around with assumptions on uplift, factoring in too the potential for opening new doors. With a bit of time spent modelling the options, you should be able to conclude whether branded content will work for you – or not.
Kevin is the co-founder of eGaming Monitor. He was previously CEO of Gameaccount (now GAN plc) and CMO at Eurobet, Sportingbet and Betfair. Egamingmonitor.com is an advisory firm to the gambling industry, with proprietary data covering 30,000 games from 1,000 suppliers across 1,000 operator sites.

Image by Amber Stevens from Pixabay