Is Mohegan Digital the blueprint for tribal igaming?
| By Robin Harrison
|

Reading Time:

7

minutes
Rich Roberts started in igaming by launching Mohegan's first online venture. Almost ten years on, he runs the tribe's Mohegan Digital arm. With multiple touchpoints and multiple partners, how does he plan to build a successful – and profitable – online casino operation?
Building a digital offshoot to a land-based business is tricky when the property casts a shadow as long as Mohegan Sun, which is Mohegan's massive flagship property in southeastern Connecticut.
Mohegan, formally known as Mohegan Gaming and Entertainment, stretches across the US and soon into Asia, but the Connecticut property remains one of the most renowned and highest grossing tribal casinos in the world.
Last month, Mohegan's chief executive, Ray Pineault, outlined the tribe's expansion plans and how he sees digital working in tandem with in-person gaming. Now Rich Roberts, as president of Mohegan Digital, explains how he's making the online component work.
The tribe established Mohegan Digital in June 2021, hiring Roberts to lead the business to bring his igaming career full circle.
He progressed from video games to social casino with Slingo before running Sportech's digital operations. Through its SNG Interactive joint venture with NYX Gaming Group he launched igaming for Resorts Casino, managed by Mohegan since 2012.
After a diversion into daily fantasy and esports, Roberts led the DraftDay DFS platform prior to his current position with Mohegan.
Expanding Mohegan's audience
Mohegan Digital, formed after Connecticut signed off betting and igaming legislation, offers casino in its home state, as well as an igaming offering in Ontario through its Fallsview Casino property.
We won't be spreading rapidly across the US and looking to compete in every state, Roberts says. "Mohegan Digital supports the Mohegan brand as an extension of the properties."
In Connecticut online casino Mohegan Sun Casino is the brand, while its Ontario offering runs as PlayFallsview. "What we're doing is ensuring the customer leaves the venue with a great brand experience that will bring the player back to the property," he explains.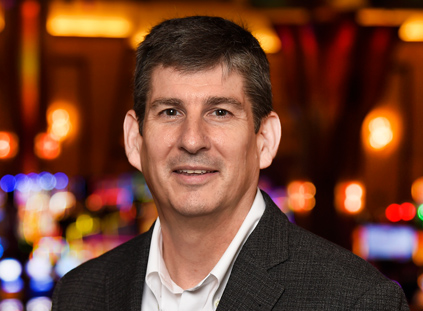 Among tribal operators, he concedes, there are concerns online takes players away from the property. Data from its Momentum loyalty programme suggest that isn't the case.
The Momentum cardholders that do play online, essentially do both. A "handful" of members may be heading out to Mohegan Sun less, but their lifetime value has increased.
"If you take a look at what's happened in New Jersey over the last nine or ten years, the expansion of digital gaming has not negatively impacted the operators property business," Roberts adds.
Most importantly online casino expands the audience. The majority of digital gamers in the first 18 months of icasino in Connecticut are not Momentum loyalty card holders.
Considering Mohegan Sun is one of two casinos in the Constitution State it has a sizeable database – igaming is refreshing the parts land-based can't reach.
"Digital is one of the better customer acquisition tools for the property."
Get them on property
"The goals of Mohegan Digital include," Roberts says, "extending the Mohegan brand, bringing more guests to the property and increasing the overall revenues for Mohegan."
When guests visit the Mohegan properties, they want to come back and the digital platform helps incentivise their repeat visits. Aside from the gaming floor, now featuring "the largest sportsbook east of the Mississippi", there's an arena hosting acts from the Jonas Brothers to Bruce Springsteen.
For dining and dancing there is a branch of restaurant-nightclub concept Tao and celebrity chef Todd English's Tuscany. Two hotel towers mean you don't have to make your way home after. It's the full resort experience.
Roberts says Mohegan Digital strives for an experience "in unison" with Mohegan Sun and Fallsview, but it's impossible to replicate that sensory experience at home.
"But what you can do is build a brand extension to what guests expect from going to the casino and all the things it offers," he says.
"As a simple starting point, have all the games they would want to play online," Roberts continues. "Have proper customer service, with the Momentum card as a key piece to earn rewards."
He knows people are playing games on mobile already. After half a career in gaming then the past 12 years in gambling, his job is to serve these consumers. As an example, Slingo – the slots and bingo hybrid owned by Gaming Realms – attracted tens of millions of monthly actives in its heyday and those gamers are very active real-money players.
"That mobile experience already exists," he says. "So the question is how do we get the Mohegan experience to the mobile gamer?"
Comfort in the familiar
First, he says, it's a case of providing players with what they know. Many icasino titles put out by the likes of Light & Wonder and IGT are land-based variations and that's what's front and centre for MoheganSunCasino.com
"That is why we like to highlight the games we have on the casino floor in the app, because it gives people a sense of familiarity," Roberts says. However, there's room for new titles and games no longer available on the floor. "We bring those back for the nostalgia value."
There is a unique value to online-first titles, but it's a case of testing out those which have performed best in other states such as New Jersey or Pennsylvania for Connecticut customers.
The Mohegan role is similar to his previous roles Roberts says. "My background prior to Slingo was with Atari, Hasbro, Viacom, Simon and Schuster and focused on expanding the brands to the digital markets. I've been lucky enough to work for really strong, large, recognisable brands and Mohegan is right at the top.
"Being a native of Connecticut, growing up in Connecticut, Mohegan is very well-known," he continues. "[But] it's amazing how big the brand is outside of Connecticut, with the level of recognition to the other brands I've worked with.
"Almost 25 years ago, I was making the first digital games for Hasbro that included Scrabble, Monopoly and Boggle brands. This has provided the experience and understanding of the value of moving retail brands into the digital marketplace."
Icasino is the focus for Mohegan Digital
Understanding the brand and its value means Mohegan Digital is focused on icasino. Alongside PlayFallsView and Mohegan Sun Casino, in Ontario and Connecticut respectively, there are plans to add an igaming offering in Pennsylvania next year.
Icasino resonates with Mohegan's database and Roberts aims to roll it out as a brand extension around its physical properties. Opportunities in other relevant states could still be interesting, however.
"If states like Massachusetts or New York go live with casino games, that's something that would be really interesting to us with the Mohegan customer base in those two states," he says. "Entrance to other markets would be based on our brand positioning to achieve similar success.
"We're not going into states where we don't have the right formula for success, or investing beyond our comfort level; we want profitable success. That we have in our current model.
"We had a successful launch in Connecticut and we are right on target in Ontario."
Sports betting, on the other hand, is "very hard" he says. "We have great partners that have the teams and the acumen in sports betting that Mohegan has in gaming. We rely on their expertise in the markets we are working in to add to our success."
The only local brand in town
For Connecticut, that means FanDuel which, alongside Mohegan Sun, runs the on-property sportsbook known as Mohegan Sun FanDuel Sportsbook and this partnership also extends to the mobile sportsbook that can be accessed through MoheganSunCasino.com and the FanDuel Sportsbook app.
DraftKings offers online betting and gaming through a partnership with the Mashantucket Pequots. The only other online competitor was Rush Street Interactive-powered PlaySugarHouse although that shut down in Q1.
Mohegan Sun Casino is the only local digital brand in the state. That's a passport to partnerships with local businesses, helping Roberts raise awareness and drive registrations across the population.
"Our marketing is about keeping it local," he says. "We have the highest value brand in the state; people love the casino and our property."
Promoting the Mohegan brand is promoting the tribes' values, he adds. As a partner, FanDuel "understands the values of the tribe".
"They understand what we're trying to accomplish for the tribe and they're working with us as I would expect any partner to support the tribe's values."
He argues there's ultimately very little difference between working for a commercial or tribal business: "They're both businesses.
"The difference running a tribal business is that I see and work with the shareholders every day," he adds, however. "And it's really nice to see what your work does in support the goals of the tribe."
Pay it forward
Mohegan has extended that goal to other tribes, acting as a partner to provide financial and operational support for casino plans. Mohegan helped to fund and manages the Cowlitz Tribe's Ilani property in Washington State, for example.
Could this partnership model be replicated for digital?
"If Mohegan can help other tribes from a retail or a digital perspective, we have the experience and success in both areas to help these tribes achieve their goals," Roberts says.