1xBet's two-factor authentication
| By Josephine Watson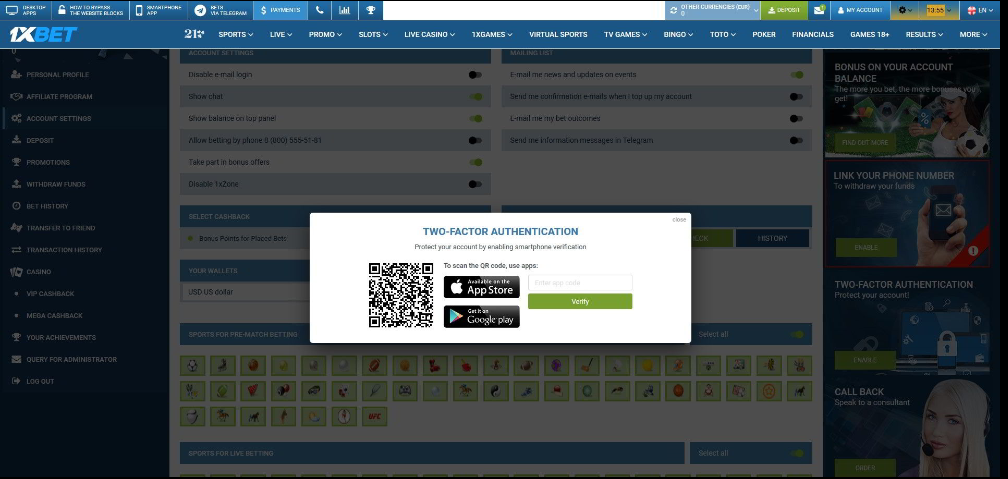 The 1xBet press service announces the introduction of two-factor authentication to prevent unauthorised access to customers' accounts.
So, what is two-factor authentication?
Two-factor authentication is a safe way to protect your account. Rather than gaining access to an account using only one password, you also need a single-use code generated using a mobile application.
This way, if a hacker steals your account password, they still won't be able to log in without the verification code.
How to enable two-factor authentication
Log in to My Account on the 1хBet website.
Click Enable on the two-factor authentication banner.
Install the Google Authenticator app on your phone.
Scan the QR code.
Enter the six-digit code and click Verify.
Two-factor authentication is now enabled.
From now on, when you log in to your account you must enter not only your login and password but also the verification code from the Google Authenticator mobile app. Enable two-factor authentication to protect your account from hackers.
"We care about our customers' safety. We use the most effective ways to provide a high level of personal data protection and we will do our best to ensure that your partnership with 1xBet is nothing but a positive experience," commented the 1xBet press service.