Bragg Studios and Powered by Bragg bring some of the year's hottest releases
| By iGB Freelance
During the hottest months of 2023, Bragg Studios and exclusive Powered by Bragg content partners have some of this year's hottest releases.
The Wedding Party invitations are out, courtesy of King Show Games, powered by Bragg. From the erudites of GAMOMAT, also powered by Bragg, comes the essential Book of Elements to spread eternal wisdom and wealth.
The opulent Cai Fu Emperor Ways and electrifying Professor BigWin are two slots by Atomic Slot Lab, a Bragg Studio. Both titles are heavy on winning big. Carts of Cash will be wheeled in by Bragg's Indigo Magic, who is also releasing a sinister-looking yet captivating Book of Blackeye's Bounty.
Animak Gaming's Godzilla, a monster slot game, arrives on 1 June, the same month as GAMOMAT's game, Feng's Fortune, lands to tempt players' luck. Meanwhile, Hawaiian Dream Jackpot by Win Fast will be online for August.
Click here to see the Bragg roadmap
Game spotlight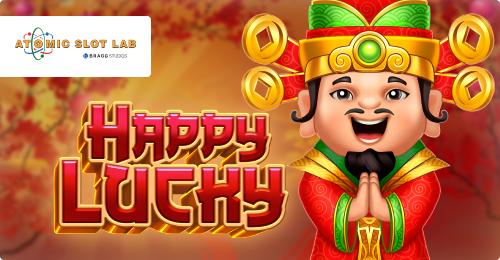 Happy Lucky by Atomic Slot Lab is an uplifting slot game that is sure to, just as its title says, make any player both delighted and rewarded.
It's a 5×3 slot game with 25 paylines and a 25-credit entry bet. The replicating reels feature will lead the way to heaps of happy wins by replicating full stacks of symbols onto other reels. The respins feature dependably delights with four 5×3 independent reel sets and three different types of bonus symbols. Fill up a reel set to secure the coveted grand jackpot.