Yggdrasil and ReelPlay hit new heights in latest slot Thor Infinity Reels
| By Guy Parsons
New title yet another demonstration of ReelPlay's force as a games studio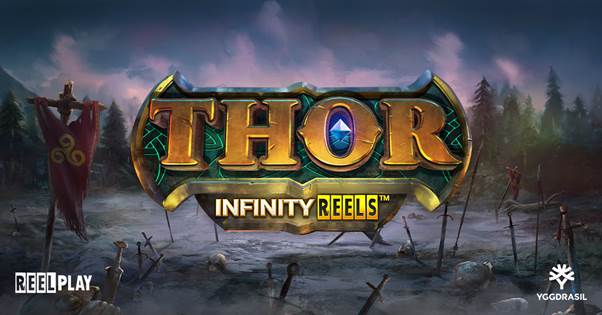 Yggdrasil, the leading worldwide publisher of online gambling content, invites players to enjoy ReelPlay's ambitious Norse-inspired slot title Thor Infinity Reels, deployed utilising Yggdrasil's innovative GATI technology.
ReelPlay's latest release is a spectacular fantasy adventure centred around Thor, son of Odin, defender of Asgard, master of thunder and lightning and wielder of the fearsome Mjolnir.
A winning combination of breathtaking art, animation, math and sound, Thor Infinity Reels is another demonstration of ReelPlay's force as a games studio. Meshed with Yggdrasil's innovative GATI technology, the partnership delivers a truly unparalleled experience to all types of players.
All spins begin with three reels, and with each spin players are offered the chance to continue adding new reels for greater wins and a chance to reach the jackpot. So, if the rightmost reel improves any spin combination on a spin, then an extra reel is added. This can go on and on, and if players reach the 15th reel a bonus jackpot prize of 888x bet is also awarded.
Ever-popular jackpot respins are triggered by landing six or more Hammer symbols; the bonus feature awarding prizes for each symbol landed. It is a stunning visual with players looking to bank multiple values across Infinity Reels.
Thor Infinity Reels is the latest ReelPlay title to be produced through the YG Masters programme. The game has been deployed using Yggdrasil's innovative GATI technology. Utilised by all YG Masters partners, this technology allows developers to employ the preconfigured, regulation-ready, standardised development toolkit to produce consistently cutting-edge content.
Rapid circulation across Yggdrasil's distribution network enables all YG Masters partners to scale and fast-track their global growth strategies.
Stuart McCarthy, head of partner programmes at Yggdrasil, said: "Launching yet another title through our YG Masters programme powered by GATI ensures that players will continue to be provided with flawless gaming experiences.
"The gripping theme and progressive mechanics on display in Thor Infinity Reels makes it one of our most ambitious productions to date, and we look forward to producing more high-quality content as the year progresses."
David Johnson, CEO at ReelPlay, said: "We're immensely proud of Thor Infinity Reels which continues to showcase the strength of our Sydney-based creative studio. Thor develops the bonus feature that has proven so popular in our Hypernova Megaways game and provides an Infinity Reels twist for a really stunning visual. Credit to the talented team at Yggdrasil, whose GATI technology enables ReelPlay's games to continue to reach new audiences. We are delighted to see another game successfully deployed through the YG Masters programme."