Abios at ten: Where does esports betting go from here?
| By Robin Harrison
|

Reading Time:

7

minutes
Esports data specialist Abios celebrates its tenth anniversary in 2023, a period spanning a major pivot, successful funding rounds and its acquisition by Kambi.
Esports, and particularly esports betting, remains a young industry but Oskar Fröberg and Anton Janér, co-founders of data experts Abios, could be considered veterans.
They've already gone through the classic startup pivot. Abios started out as a B2C scheduling platform for fans to follow esports tournaments, fixtures and results. Products such as a Chrome extension were popular, but difficult to monetise.
That prompted a pivot into data and a focus on APIs and visualisations. This B2B focus, of course, has paid off in spades.
"Sometimes we refer to our current business as one of our backup plans, but that's not really the truth," Fröberg says. "When we built the B2C platform we saw that as potentially a good business in itself, but we had a number of paths we could take.
"One of these was B2B, one of these was building our own betting platform and we saw the best opportunity in B2B."
Its APIs and visualisations also convinced a high profile betting business to enter the game. Kambi acquired Abios in a SEK270m deal in 2021.
Problem solving and passion
At a time when other companies in the sector are struggling, running out of runway or struggling to establish themselves, Abios is arguably an outlier. It secured funding from its early stages. Now with Kambi's sports betting expertise it is shaping how esports betting is consumed.
But they're not sure about being tagged veterans. "We started out early; I feel young and alive still," Janér laughs.
To him, a business' value lies in its ability to solve problems, which in turn contributes to Abios' relative longevity.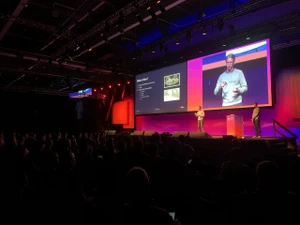 "Having worked on those problems for ten years, doing everything from handling real-time esports data from servers to working with analogue information, we've been solving these problems to an extent," he explains. "That experience is very hard to replicate."
A passion for the sector underpins this experience, alongside the right people.
"By 'the right people' I mean people who know esports, who live and breathe it and who are passionate about entrepreneurship and building a company from the ground up. We have people around us who support us in every aspect, the best possible people in every single role and, if you have that, the rest takes care of itself."
Facing down a market correction
While Abios now sits at the centre of esports betting's effort to break into the mainstream, recent events have caused disquiet about the sector's prospects.
Plenty of esports betting operators have got banks and investors excited, raised capital then burned through it without much in the way of returns. Some pivot away from esports and launch a firesale of assets, some lurch from one crisis to another.
This isn't confined to esports betting. Organisations' valuations have also plummeted, in some cases by more than 90%.
In Fröberg's eyes the current struggles definitely serve as a market correction.
"Having been in the industry for ten years we've seen a lot of businesses come and go, a lot of brands that have created a lot of noise, raised loads of capital then are never heard of again two or three years later," he says. "Around the pandemic years there were a lot of businesses that were listed, but were never able to show any end product."
Ultimately having the macro environment take care of itself "is probably quite good for the industry". Those that find the right product-market fit will stick around, and will come out strongly, he predicts.
That's not to say it's necessarily a fair market correction. "We've seen a lot of ventures out there, where we think the idea is right, the product is good, but it's a matter of timing," he adds. "Maybe the industry isn't mature enough, maybe it'll take longer for these businesses to find their place."
Janér points out it's happening in every industry, in every country around the world.
"Most people should have been a little bit attuned to the risk of this happening," he says. "It impacts healthy companies less, but it impacts everyone."
Standing up for esports' future
Janér believes the digital-first nature of esports means the sector as a whole will weather the storm better than most. And there's still plenty of optimism around the industry – considering how young the esports sector is in 2023, each year still marks a massive improvement on the one before.
He's also excited by the technology available in the industry, which doesn't exist in any traditional, analogue sports. "That's bound to create some really interesting products and opportunities going forward.
Fröberg believes esports' detractors either don't know the sector, or haven't done enough research. At worst, they might have a degree of prejudice around gaming in general.
"It's still a rapidly growing market that's finding its way but if you have an intimate knowledge of the sector, you know it's here to stay and it's going to get bigger and better," he says.
"There's a lot of things that are exciting, but from a pure economic perspective esports audiences are still very young, and have low disposable incomes. As it matures these fans will be spending money to entertain themselves. That's going to change the industry."
Janér notes there are different pros and cons to all emerging, established and popular betting sports, and he can't see why esports would be any less suited. However, there is still a "big lag" in terms of what information is available regarding the performance of esports across different platforms and customers. In short, the evidence could be there, we just haven't seen it yet.
"[But] it's rooting in properly, and we'll only see it grow from here," he adds. "When it becomes as big as American football I can't answer but it's going to be in an interesting place."
Life in the Kambi family
Of course, being part of a business that has successfully leveraged American football's popularity to build a sizeable presence in the nascent US market is probably a good place to be as esports embarks on the same journey.
That access to sports betting expertise, both in terms of the core product and the know-how to navigate a tricky regulatory landscape, is arguably what a lot of early-stage esports betting hopefuls have lacked.
Janér says Abios was "a bit humbled" by just how tricky the sports betting industry is to navigate.
That makes the partnership particularly valuable; Abios can lean on Kambi's expertise around compliance, while Kambi has a "black ops team" for esports, providing an extra edge and products beyond the core wagering suite.
The supplier is still "delivering infrastructure to the esports industry" as Fröberg puts it, although under Kambi's ownership the focus zeroes in on the betting component. "It was obviously interesting as there was money to be made there, but beforehand we were just looking at it as one [of many] sectors to be in."
Overhauling esports odds
So what does that mean for its product roadmap? The odds product is the focus, but it's less about innovation, at this point, and more about rolling out new products and features. Although those plans are particularly ambitious – the odds product, Fröberg predicts, will be industry-leading by 2024. After 2024, that's when they'll start innovating.
He argues it's similar to the original API product. "[That] created the field and set the tone and really broke new ground. The same is true for our widgets and visualisations.
"With odds we're now bringing the best things traditional sports has to offer, bringing esports up to par with odds [in 2023] then next year we want to innovate, break new ground and try to find the types of products that have never been seen around traditional sports."
Whether or not they consider themselves veterans, Fröberg and Janér have demonstrated staying power in a sector that is young, subject to growing pains and yet to convince all of the gambling industry of its value.
There's no secret sauce but if they were to give others some advice, it's very simple: founders should move slowly, but deliberately.
Ignore the entrepreneurial jargon
"Don't be too keen to get too big and make money too quickly," Fröberg says. "When we started out esports was young, we didn't aim to be a billion dollar business in three years.
"The industry was growing. We knew it would grow further."
Equally crucial, he adds, is for esports entrepreneurs to think for themselves.
"There's all this entrepreneurship jargon that's meant to be conventional wisdom of how you should grow businesses," he says. Ignore it. "Keep your eyes open and see what your industry looks like, the competitive landscape and think for yourself.
"Make smart, well-founded decisions based on your own analysis. That's something we've lived by, that helped avoid stepping on many different mines."
But while they've done ten years in the sector, neither Fröberg nor Janér feels they're anywhere near finished. There's plenty of innovation around data APIs, and massive opportunity to create something totally new around odds and betting products for esports.
"We're building infrastructure for esports," Janér says again. "Whether we're new or veterans, we're happy to continue doing that."