iGB-Pentasia Salary Survey: World view 2022
| By iGB Editorial Team
|

Reading Time:

2

minutes
Pentasia provides an overview of hiring trends and demand around the world, with focuses on a number of key markets.
Read Pentasia Alastair Cleland's introduction here, and an analysis of key trends from the 2022 Salary Survey by Will Sawney and Kerry Gillitt here.
JUMP TO: REGIONAL OVERVIEWS
JUMP TO: COUNTRY SNAPSHOTS
Europe
The industry-wide talent shortage is strong, with hiring struggles found throughout Europe. In the UK, the market remains buoyant but Brexit restrictions have made it more difficult for continental employers to hire out of the UK. Salaries no longer vary between western and eastern Europe resulting in remote teams in different locations. Tech talent is increasingly being hired as a complete team, a service delivered by our partners VentureStep as 'augmented teams'.
North America
North America's talent market has turned somewhat, with significant layoffs as companies steer towards greater profitability. However, this has not eased the talent shortage to anything like the level clients expect; it's still hard to find good people and salaries continue to rise. Canada is also seeing growth, but as a more established region the candidate market is not as volatile as the US.
Asia
An exciting region with huge potential, Asia still faces issues with stability and regulation. Finding the right level of specialist candidates in many regions remains extremely challenging. Indian talent is increasingly strong and is commanding higher rates, though relocation remains challenging. Remote work has seen tech specialist candidates more easily integrate into European and US operations.
Rest of the world
A considerable premium is attached for those able to bring experience from established markets into emerging ones. In Latin America, countries such as Mexico and Brazil are evolving fast, which is likely to drive huge talent demand. Talent continues to be in demand with significant interest in Colombia and Argentina. In Africa, meanwhile, it's Kenya, South Africa and Nigeria that stand out as highly active.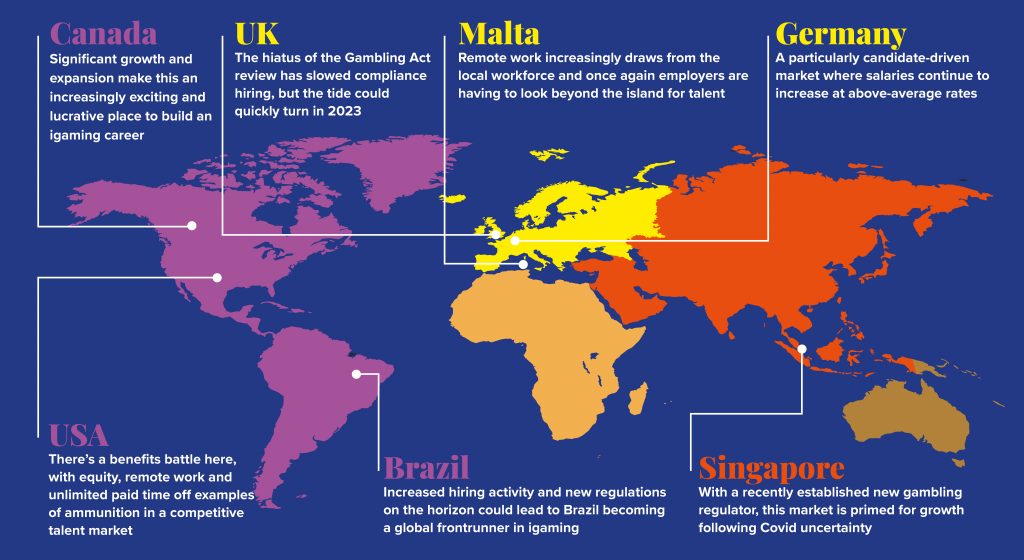 Country snapshots
Canada
Significant growth and expansion make this an increasingly exciting and lucrative place to build an igaming career
UK
The hiatus of the Gambling Act review has slowed compliance hiring, but the tide could quickly turn in 2023
Malta
Remote work increasingly draws from the local workforce and once again employers are having to look beyond the island for talent
Germany
A particularly candidate-driven market where salaries continue to increase at above-average rates
US
There's a benefits battle here, with equity, remote work and unlimited paid time off examples of ammunition in a competitive talent market
Brazil
Increased hiring activity and new regulations on the horizon could lead to Brazil becoming a global frontrunner in igaming
Singapore
With a recently established new gambling regulator, this market is primed for growth following Covid uncertainty