Since April last year, Sportradar Integrity Services has detected 1,100 suspicious sports matches - 655 in the first nine months of 2021 alone. Match-fixing is a cancer, says managing director Andreas Krannich, and it's on the rise.
Sportradar Integrity Services, the anti-corruption arm of the newly-listed sports data specialist, sees a serious problem emerging in the betting sector. Over the past 18 months, its bet monitoring system, the Universal Fraud Detection System (UFDS) has detected suspicious activity in 12 sports, across 70 countries around the world.
This equates to more than 1,100 suspicious matches since the Covid-19 pandemic took hold in April last year, with 655 of those detected in the first nine months of 2021. Football, according to Sportradar, faces the highest risk of manipulation, with that 2021 figure covering over 500 matches in the sport, of which more than 40% come from third-tier competitions and below, down to youth level.
Managing director of Sportradar Integrity Services Andreas Krannich says he would "put his hand into the fire" and say the 655 have been fixed for betting purposes. Since the division was launched in 2004, he adds, it has never had a "false positive". In fact, he's more worried about the system not spotting manipulation than he is of it suggesting something is awry in a match.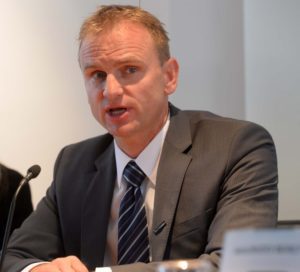 "This number is really where we are 110% sure they are manipulated for betting purposes," Krannich says.
A global threat
This, he argues, is a consequence of Covid-19. "[This] cancer of match-fixing is spreading and affecting sports that in the past were never or rarely the focus of match fixers.
"There was always room for improvement, but unfortunately not the same amount of follow-ups by law enforcement, police, sporting organisations, so not all of these are followed up or investigated," he explains. "At least we can state that if the sports governing body, the state authority, the police takes action, they can be successful in combating it."
Krannich, having worked for Sportradar since 2008, has a strong pedigree in the integrity space. Prior to joining the supplier he worked for the German Football Association (DFB) and the country's top tier football competition the Bundesliga. During this time he was responsible for establishing and managing its integrity programme, in the wake of one of the highest-profile examples of football-related corruption, the Hoyzer Affair. This saw referee Robert Hoyzer admit to fixing matches in the second tier 2.Bundesliga, DFB Pokal cup competition and third tier Regionalliga.
At the head of Sportradar Integrity Services, Krannich and his team have supported over 400 disciplinary sanctions, with UFDS involved in six rulings in the Court of Arbitration for Sport (CAS), and supported more than 36 successful criminal convictions.
In particular he picks out football as being at risk, highlighting lower-league Russian and Brazilian football, as well as increasing evidence of manipulation in esports. "But other sports are affected," he continues. "We had a spike of close to 20 matches being manipulated in basketball in Thailand, so what we witness is this like boiling water – the bubbles pop up all of a sudden, in a jurisdiction where you've never had a problem before."
The changing face of match-fixing
Last year, the world moved online when people were confined to their homes. Match-fixing was no different. Krannich says recruitment of athletes, referees and teams was a difficult business, but has been eased by digital channels.
"If you see it from a development perspective, a positive development that comes from Covid is we've learned how to communicate professionally digitally," he explains. "This is also an advantage for the match-fixers.
"Due to the fact that people are getting used to communicating through digital channels, coupled with the negative commercial impact for sport – which is creating an Eldorado for match fixers – players, referees, even clubs are vulnerable because they don't have the financial foundation they had before. It's making it much easy for criminals to approach them."
Organised crime groups can even "switch on and off athletes, referees – even full teams".
The financial pressures on sports such as football, which has seen high profile clubs plunge into debt, lose key players and even file for administration also creates opportunities.
"We've had so-called investors approaching a club in financial trouble," Krannich says. "They approach the club say 'we'll take a stake, ease the financial pressure, bring in a commercial manager, team manager and a few players'.
"Not just in football, we've also seen this in basketball. This is a trend that's getting stronger and stronger."
That financial pressure affects the current integrity structures, with clubs and leagues cutting budgets, weakening the safety net. While some have maintained their integrity and anti-doping controls, others have cut back.
This has prompted Sportradar to offer UFDS for free to sports federations, leagues, or state authorities. Krannich is keen to stress that there is no "hidden agenda" to this decision.
"This is really a free-of-charge service," he says. "Consider it as a free burglar alarm for your house – for all doors, all windows, the cellar, for break-ins and for fires."
He hopes the alerting system never sounds the alarm, because that at least means the sport in question is not affected. But if it does, the body will at least be aware of an issue, and receive advice on how to follow up. That can be through an investigation carried out by Sportradar, or directly with police and law enforcement.
"It's not a commercial exercise for us. Seeing that financial strain on sports, we just want to prevent match fixing cases from being overlooked because of these difficulties."
"Prohibition never works"
By making sure integrity monitoring solutions are available free of charge, the goal is also to tackle efforts in some markets to ban betting on lower leagues. Krannich is blunt: "Prohibition never works."
"We are living in a digital environment with the next betting offer only two clicks away," he says. "If you try to enforce prohibition, those activities not only just go underground. The serious consequences are that there is a total lack of enforcement and oversight to uphold any sort of integrity. Black markets are created."
He says it's not an ethical debate and more of a logical step – if something can't be banned, it has to be offered in a well-regulated and controlled fashion. He points to his native Germany, where betting on certain live markets, such as corner kicks and fouls, is prohibited on the basis that it's easy to manipulate.
"In theory, yes. But if you try to understand the market, but if a match is manipulated, there are three victims. The fan, who is duped, the sport which loses credibility, and the bookmaker, who loses money.
"The bookmaker has an inherent interest in not being trapped by match-fixers," Krannich continues. "They are very good at risk management. So if you are trying to manipulate a match, you will always try to optimise your revenue. There are always five, six people involved, so you have to have a big margin.
"Would you bet on corner kicks, where you can stake £50, our would you go for full time bets, where you can stake thousands?"
This, he points out, has been supported by research conducted in partnership with the Netherlands' Asser Institutethat analysed match-fixing cases identified by Sportradar. The majority of bets were 1×2, handicaps and totals. "Organised crime makes its money from those three markets."
Bets on corners, cards and fouls, he says, are simply "marketing bets". Police even call manipulating these markets "pickpocketing" compared to other forms of manipulation.
"The essence is even if in theory from an ethical point of view a ban could be discussed, if it's not effective," he adds. "You only generate imperfect markets, wrong prices, no consumer protection and mafia structures."
And if a ban is implemented, the fixers have to place their bets offshore. Police that want to investigate suspicious activity then cannot talk to locally regulated bookmakers, who are willing ("And required by law," Krannich adds) to cooperate.
"You prevent the live match harder to investigate, because regulated bookmakers will not be able to support you," he says. "A ban is not going to work."
Rather than ineffectual prohibitions, it's careful and consistent monitoring that is going to shield sports from corruption. The fixers are not going anywhere.
"It's a global threat," Krannich says. "I deliberately use the metaphor of a cancer; it's spreading around the globe."