Home > Social responsibility > Tackling affordability: gambling and the cost of living crisis
Tackling affordability: gambling and the cost of living crisis
| By Marese O'Hagan
The cost of living crisis could exacerbate gambling harm if the industry does not take action to ensure safeguards are in place for players. Ultimately this may require a new mindset when it comes to measures such as affordability checks.
In April, inflation in the UK reached its highest level in 40 years, adding to the cost of living crisis which has seen costs spiral for food, shelter and basic amenities.
One of the most worrying conversations has centred on the vulnerable – those with less disposable income – who are set to feel the effects of the crisis the most.
For vulnerable groups susceptible to gambling harm, the cost of living crisis could be catastrophic.
Charles Cohen, chief executive of affordability solutions provider Department of Trust (DoTrust), outlines how these factors can coalesce into a perfect storm for at-risk or problem gamblers.
"The real danger with the cost of living crisis is the speed with which it has happened and the uncertainty it has created in a short period of time," Cohen explains. "What that means essentially is that nobody can plan their finances with the same degree of confidence that we used to be able to because when prices are stable, you know how much a loaf of bread or a trip to the pub is going to cost you probably the week or month before you go."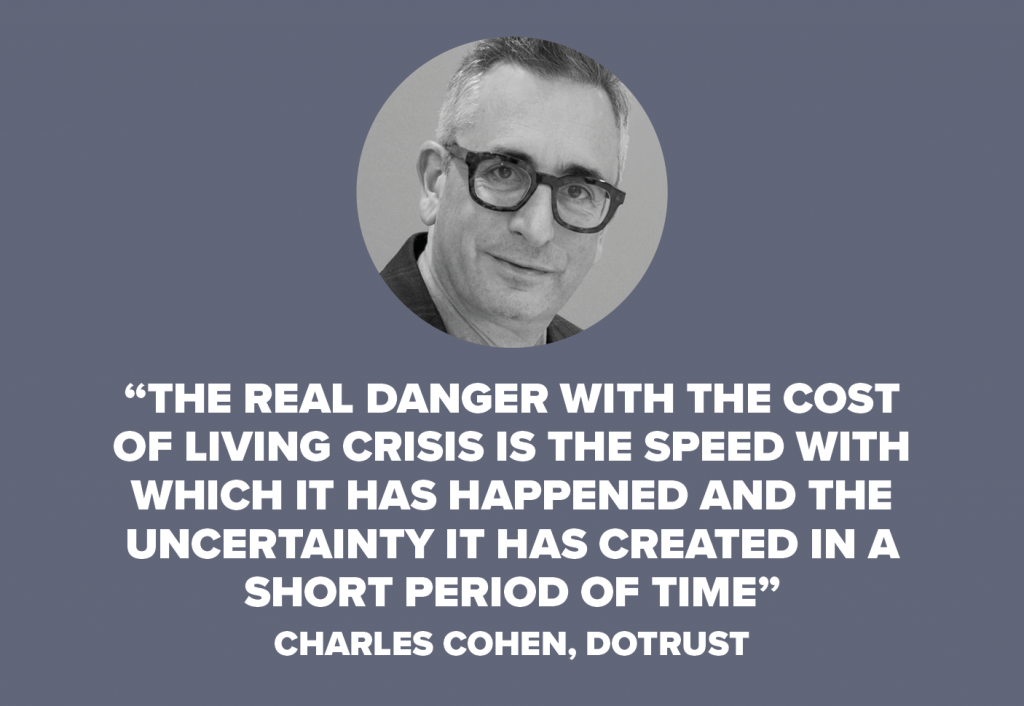 This uncertainty has the potential to be devastating. Cohen highlights how the unpredictability caused by the crisis could be crippling for those already struggling to quantify their gambling spend.
"The problem with inflation, when it's unpredictable, is if you don't even know what your gas or electricity bill is going to be, how can you possibly plan anything?
"[The cost of living crisis] leaves everyone in a state of confusion and uncertainty, and it's particularly problematic for people who already have less ability, less consciousness, and less awareness of where their gambling spend fits into their overall financial life."
In April, the month inflation hit 9%, GambleAware released six new principles (see below) it said would show the gambling sector doing its bit to mitigate the crisis where possible.
These included a call for a mandatory 1% levy on gross gambling yield (GGY) as a licence condition, targeted support for gambling harm prevention and treatment, and providing aid by reducing inequalities for Britain's most at-risk communities.
These were published primarily in response to the cost of living crisis, but many of the measures could have been published at any time.
"GambleAware has been calling for the introduction of a mandatory levy for many years and now with the soaring cost of living, deepening regional inequalities, and continuing impacts of the pandemic, urgent action is required and our six principles set out how we intend to tackle these issues," the charity told iGB.
GambleAware's six principles for alleviating the cost of living crisis
Supporting those most at risk by reducing inequalities
Mandatory 1% levy as a licence condition
Recognising prevention and support to reach all communities
Targeted, innovation-driven support
A coalition of expertise
Investors must push for change
A closed fist
Many would argue responsibility for alleviating the crisis lies with the UK government. In May, chancellor Rishi Sunak announced a £15bn government support package, which will include a one-off payment of £650 to more than eight million low-income households that receive universal credit and a £400 discount on energy bills in October.
Industry-specific measures, amid a review of the 2005 Gambling Act, are nowhere to be found. But GambleAware insists the government needs to recognise the impact of the crisis will be on those suffering gambling harms.
"The government must take the necessary and responsible steps in response to rising financial and economic hardship across the country by ensuring sufficient funds and resources are put towards addressing and preventing gambling harm," says the charity.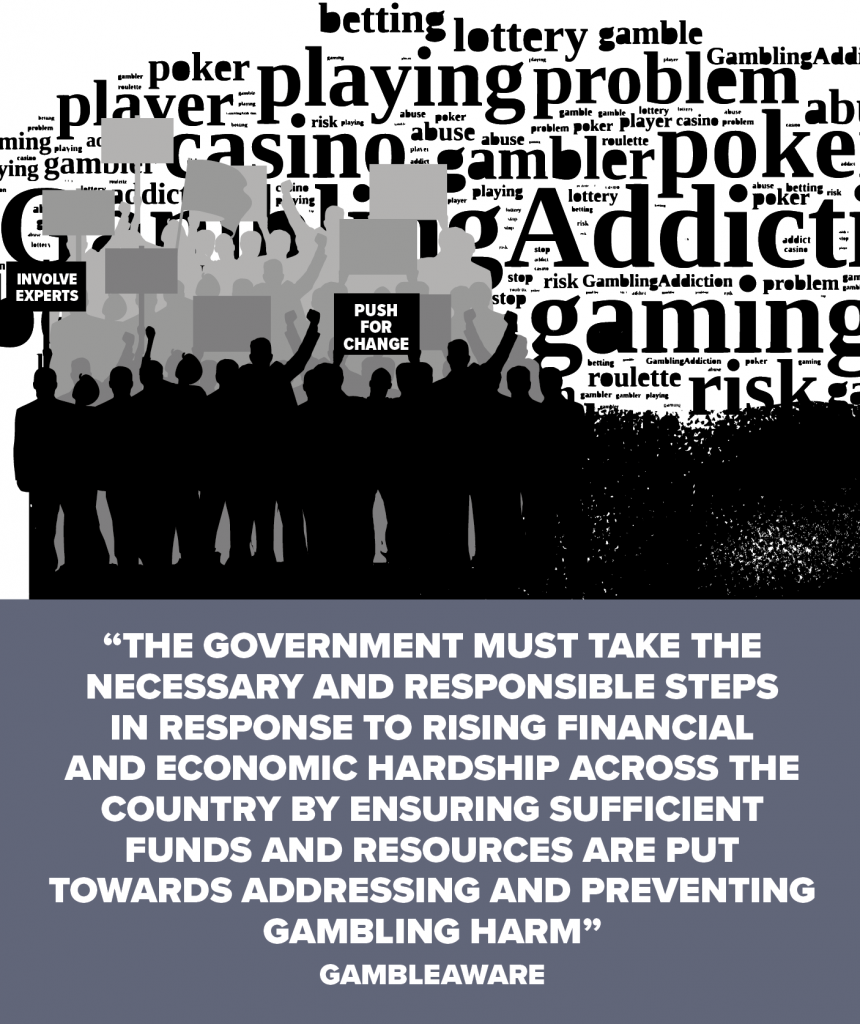 GambleAware's plea for a mandatory 1% levy on GGY would bolster funding for gambling harm treatment resulting from the fallout of the crisis.
"GambleAware has been consistent in our call for the introduction of a mandatory levy on gross gambling yield to provide the much-needed stability and independence of funding to ensure those most at risk of experiencing gambling harm are able to access the help and support they need," it says.
Cohen believes that more direct communication between the government and regulators is the way to go, especially in the realm of affordability.
The discussion of affordability checks has become an increasingly fraught issue; industry standards body the Betting and Gaming Council (BGC) has repeatedly warned that blanket checks will only harm efforts to protect players .
It has commissioned polling by YouGov, which found 58% of punters would not be willing to allow licensed betting and gaming operators to carry out what the BGC called "arbitrary blanket checks".
In a second warning against affordability checks, that coincided with the Grand National, CEO Michael Dugher claimed 95% of punters would not share bank details in order to bet.
But Cohen argues that, if there is a clearly defined plan set out by the government and the Gambling Commission, affordability checks can be an effective tool.
"Other than dealing with inflation itself, from the perspective of the gambling industry there's really only one thing the government needs to do, and that's to clarify the requirements and the expectations that the regulator has around affordability checks from gambling operators," he explains.
"The worst thing the government could do right now would be to relax on this – have a free-for-all of people doing random credit checks and looking at marketing databases of post-Covid levels. That would be absolutely insane."
For operators, the cost of living crisis presents a tricky balance, at a time when the industry's future is the subject of furious debate. GambleAware regards safer gambling information as the best route to tackle gambling harm, especially that which results from the crisis.
"The gambling industry must ensure messages promoting safer gambling are frequently displayed and shared with their customers online and in venues," it explains. "The industry has a social responsibility to view gambling as a public health issue, as other harm-causing sectors do, which includes prevention as well as treatment."
Cohen highlights how operators could identify gambling harm during the crisis and beyond, some of which engages recent technology. It's a package of measures rather than one solution.
"There's no silver bullet for this," he says. "On one end of the spectrum you have companies that do analysis of wagering patterns and can spot the outliers – people that might have a gambling problem – and you can automate that process which can be very effective at highlighting people who you wouldn't otherwise spot."
Of all the new technologies on offer, he sees open banking as the soundest method of gambling harm identification, as opposed to standard methods such as credit checks.
"There are open banking-based solutions, and ultimately open banking is the answer to this," Cohen continues. "It's the only way you can safely, conveniently and cost-effectively access the real data which is going on in people's bank accounts."
"[I've] spoken to lots of operators who have used it and everyone agrees that it's better than bank statements and if we can find a way for people to share data I think it will make an enormous difference. That for me is the direction for travel in the industry."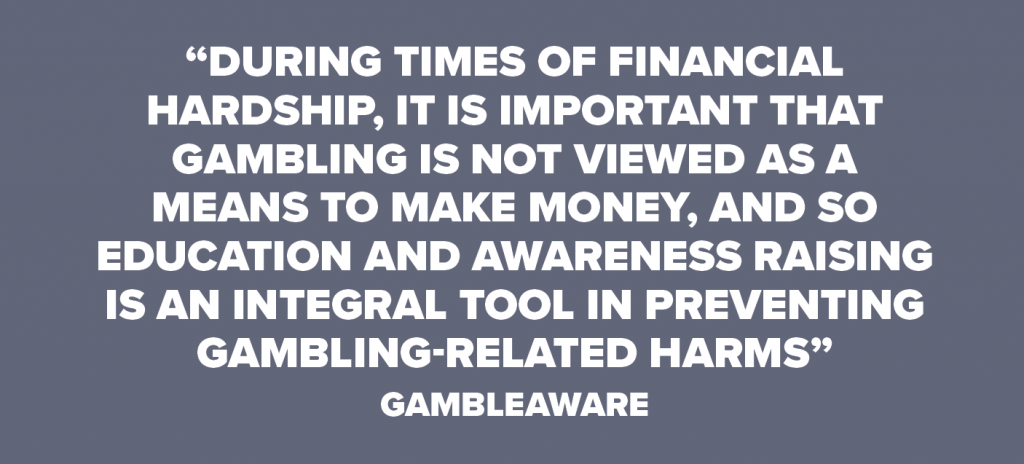 On the lookout
As Cohen says, there is no silver bullet to mitigate the impact of the cost of living crisis. But there are steps the industry can take. And the starting point, both GambleAware and Cohen agree, is education.
GambleAware has seen success with its harm prevention efforts, which have been rolled out across the UK. Its Gambling Harm Education Hubs, where children learn about the risks of gambling, recently expanded from Scotland to across England and Wales. Optimistically, 84% of young people who engaged with the Scottish Education Hubs reported feeling aware of the consequences of gambling harms.
"During times of financial hardship, it is important that gambling is not viewed as a means to make money, and so education and awareness-raising are integral tools in preventing gambling-related harms," says GambleAware.
"We facilitate locally led prevention services, tailored to local need and effectively reaching communities to deliver important prevention messaging, aiming to help stop gambling-related harm before it begins."
Similarly, Cohen supports financial literacy as a key early-stage method for harm prevention.
"For all of us, the one thing we all need are financial health tools," he says. "There's a lot out on the market already.
"There's a longer-term story about teaching financial literacy, helping people manage their budgets and things but, in the short term, the number-one thing is awareness and information."
The cost of living crisis has the potential to exacerbate gambling harms at a time when the industry's future is on the line and its reputation is taking a battering. However, there are steps that can be taken; these may not help sway public opinion in the near term, but they may offer players a crucial safety net when they need it most.