Can Sportradar's Orako be all things to all operators?
| By Zak Thomas-Akoo
|

Reading Time:

4

minutes
Sportradar is making an ambitious pitch to operators with its latest venture – Orako – a managed services sportsbook solution that combines a range of its products into one solution. At a time when many businesses are looking for greater control over their technology, Orako managing director Jacob Lopez Curciel explains why there's room for a new competitor in the sports betting vertical.
Since the purchase of sportsbook platform Optima in 2019, Sportradar has been building its own turnkey sportsbook solution for operators.
Orako, its recently announced managed-services solution, is the result.
Flexibility is a term Curciel often returns to when describing Orako. Flexibility of service, flexibility to adapt.
Former Optima chief executive and founder Jacob Lopez Curciel is in charge of the project in his role as managing director for managed sportsbook services at Sportradar, ensuring a degree of continuity between the organisations.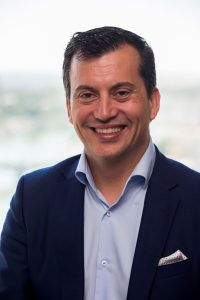 "Orako is offering a compact approach to sporting services, with full flexibility in terms of what services you want to take or not take or you want to take from our sports betting, added to the possibility of getting additional services from other parties fully integrated as part of the service," he explains.
That is, Orako can be whatever operators want it to be.
Moving in-house
The sportsbook technology space is highly competitive, with a number of providers competing for deals.
Equally, and potentially ominously for Orako, there are a number of operators that are looking to take their technology in-house, either through M&A or building from existing assets. This, however, is not necessarily an insurmountable obstacle for a new contender, Crucial says.
In his eyes – even for an operator developing their own solution – there will still be a desire to get access to some element of Orako's services.
"We expect to be part of all those operator's initiatives when they prefer to develop their own sportsbook service in house," he says. "Definitely there are the bricks and mortar of how you create those services and we at Orako expect that our APIs and our services will also be used in those bespoke solutions being made by them."
More prosaically, Sportradar is placing innovation at the centre of this strategy, counting on operators' need to stay abreast and ahead of the latest developments. The aim is to be the first to integrate novel features, so that the business is always one step ahead of the stiff competition.
"We bring that innovation forward. Normally we tend to take the leadership position within the industry – bringing new initiatives, bringing new ways of doing things and new ways of analysing the market and being first to market with many of those initiatives."
Curciel also believes the best way to stay ahead of the curve is to attract the best talent:
"You need to keep the actual services quality at the top and obviously we invest a lot in talent, giving talent engaged in the capacity we need to drive all those innovations we want to launch into the market."
Will it be enough? Operators often have deep pockets of their own to attract their own talent – perhaps the future of Orako involves operators picking and choosing the best bits.
This is why Curciel places such an emphasis on flexibility; for example, data collection and analysis is where Sportradar has build its global brand, so it would be where to expect a competitive advantage.
Modular approach
The business aims to offer a modular solution, where sports betting operators can pick from a wide variety of services, and choose the ones they wish to integrate on their platform.
Curciel has an exhaustive list of these services: "We offer data services which allows customisation of the data for operators, we offer as well third party services, feeds integrated into the sportsbook service, managed trading services, managed marketing acquisition services, retention services, visualisation services, streaming services.
"We offer to provide services for promotions, making sure the promotions are tailored end-to-end by the operators, we provide front-end development and customisation services for sports betting, we provide affiliation integration services and also management of the integrations for those third parties."
Curciel also insists that the operator will be able to additionally choose the degree and level of service, hoping that that the flexibility will allow operators to tweak the platform to meet their needs.
Unwritten future
It has been said that predictions are hard – especially about the future. Curciel admits himself that that uncertainty is the biggest variable going forward: "The biggest challenge is understanding how the players are going to be changing going forward – so we see that customer habits are changing, and we need to understand correctly how those habits are going to factor into that – and be ourselves one of the key drivers of that change in how the customer behaviour is going to end up in the future."
It's a pitch with a certain amount of Steve Jobs about it – don't wait for people to change, give them what they don't know they want and change them yourself.
Whatever the case – it's just the beginning for Orako: "Orako is a project, product and a service that is in constant evolution. I don't think we ever could say that the service or the product will be finished, it's in a state where you can obviously use it in production successfully. It's all going to work 100% correctly, but we are adding improvements constantly."
Orako then is intended to be flexible itself to whatever the future holds.
So, it seems that Curciel sees Orako not just as a product with a final design, but a constantly evolving and expanding set of services. And while it's true that that will enable flexibility for operators, will the wide focus mean the solution ends up as a jack of all trades, master of none? Or will the multiple vectors just prove too useful to pass up?