Waterhouse VC: Spinning the flywheel
| By iGB Editorial Team
|

Reading Time:

3

minutes
In his latest column, Tom Waterhouse of Waterhouse VC delves into the world of local heroes and the benefits they pose for operators.
If one were to summarise what the best wagering business looks like, it would be something like this:
Differentiated customer offering, with a diverse range of betting options
Frictionless payments and a slick user experience with excellent customer support
Acquires customers cheaply
Retains customers for an extended period of time
Effectively cross-sells customers to higher value products (in most regulated markets, online casino is the highest value product)
Minimal reliance on third-party technology suppliers
Lean cost structure
Through both organic growth and M&A activity, Flutter (last discussed in February) has developed market-leading wagering companies that exhibit the above characteristics across many geographies.
By coupling their access to worldwide expertise and resources across product, technological capability, customer intelligence and data analytics, Flutter has developed what it calls its "flywheel".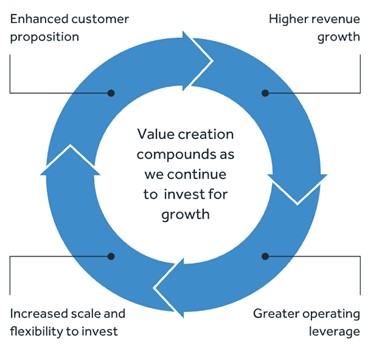 Local heroes
Local heroes are wagering operators that have been successful in attracting customers from a single geography. For example, in our last newsletter, we highlighted KTO, a prominent Brazilian operator that has expanded through a targeted approach. It initially focused on serving the southern regions among Brazil's diverse 26 states.
The largest global operators, including Flutter, Kindred, Playtech (which also has a large B2B arm) and Entain, have effectively grown by acquiring local heroes and assisting them with expertise and technology.

Operators acquiring local heroes enjoy numerous benefits, some of which are outlined below.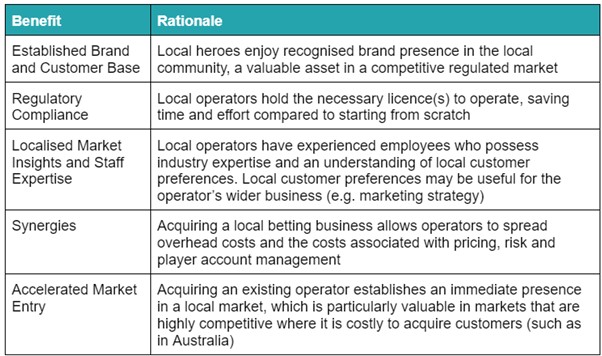 Flutter makes its move for MaxBet
Most recently, in September, Flutter acquired an initial 51% stake in MaxBet for €141m. MaxBet is the second largest sports wagering and gaming operator in Serbia. Flutter has the option to acquire the remaining 49% of MaxBet in 2029.
In the 12 months to June 2023, MaxBet had around 20% market share in Serbia. It also generated revenues of €145m (44% from online), with adjusted EBITDA of €32m.
Beyond providing a robust flagship brand in Serbia, it opens a gateway for Flutter's desired expansion into the region. This follows Entain's Croatia-focused acquisition of SuperSport. In a market traditionally dominated by retail outlets, MaxBet has developed an online presence by capitalising on its retail outlets. Serbia's online wagering market has grown at 25% per annum over the last five years.
The acquisition aligns with Flutter's three criteria for M&A:
Bolsters its competitive stance in burgeoning, regulated markets
Serbia represents a large €700m revenue opportunity, with low digital penetration of around 35%.
Adds a notable "local hero" brand to the Flutter portfolio
MaxBet has an extensive network of over 400 retail outlets spanning four markets. The company's 2,400 employees provide Flutter with invaluable local market expertise, facilitating effective cross-selling and online expansion.
Clear opportunity to capitalise on Flutter's expertise and technology, resulting in tangible revenue synergies

For example, MaxBet will harness Flutter's proprietary global pricing and risk management capabilities to offer a distinctive sports wagering product, while gaining access to Flutter's gaming content.
Return on investment
As local heroes mature under the umbrella of larger operators like Flutter, they have been able to flourish. This dynamic is one of the reasons that Flutter was one of our first investments in Waterhouse VC, having had first-hand experience with their Australian local hero brand, Sportsbet.
Since our first investment in September 2019, Flutter has returned 101% and has developed FanDuel from startup to profitability in the US.
In 2011, Matthew Tripp completed the sale of Sportsbet to Paddy Power (later rebranded to Flutter Entertainment). In 2011, Sportsbet generated revenues of £107m and EBITDA of £22.8m. Fast forward to 2022 and Sportsbet recorded £1.3bn of revenue (12x in 11 years) and EBITDA of £390m (17x in 11 years), with around 50% market share.
As markets progressively regulate globally and competition to acquire customers intensifies, we will see continued M&A activity focused on local heroes. We believe that Flutter is well-positioned to capitalise on this landscape, considering its outstanding management team, industry expertise and leading technology.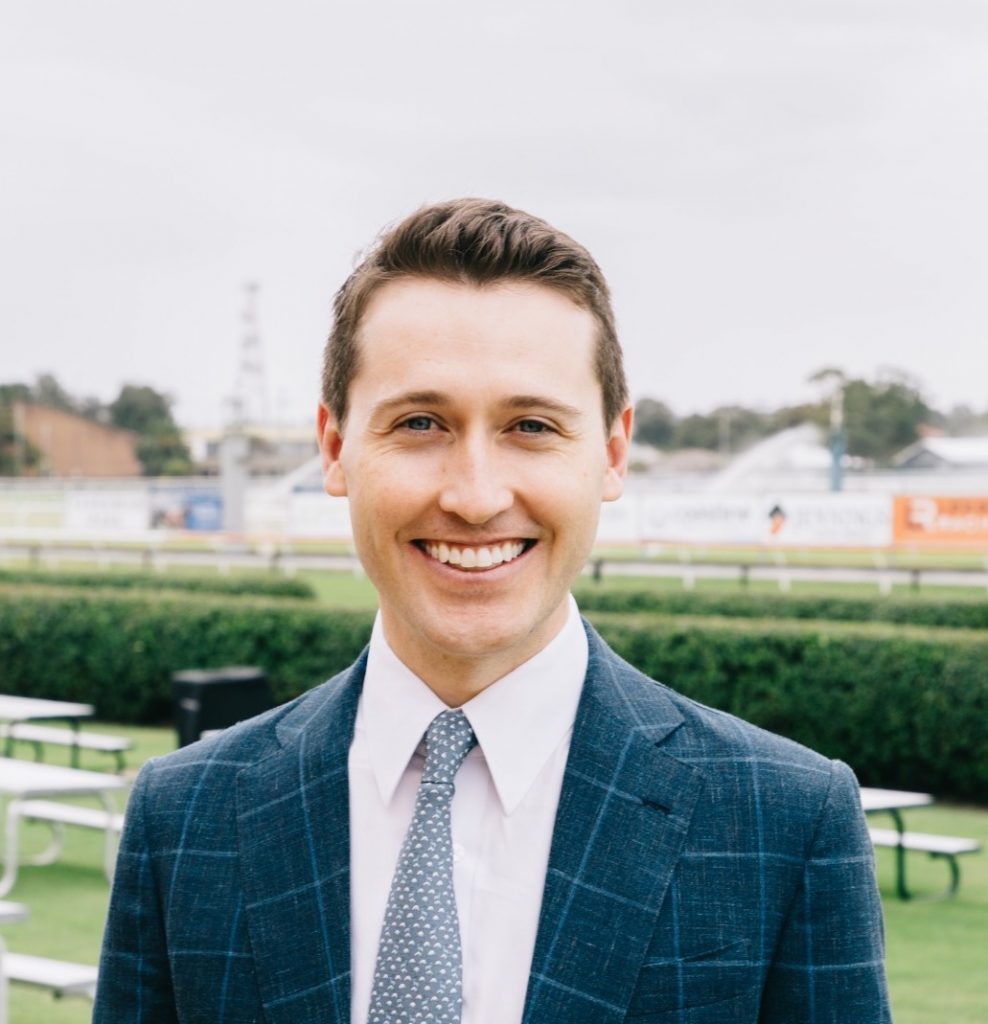 We specialise in global publicly listed and private businesses related to wagering and gaming. Since inception in August 2019, Waterhouse VC has achieved a gross total return of 2,422% as at 30 September 2023, assuming the reinvestment of all distributions.