The importance of innovation
| By iGB Editorial Team
|

Reading Time:

3

minutes
iGB op-ed: As the industry continues to integrate new technologies, operators must find ways to keep up with the constantly changing landscape. James King, CEO of Flows, explores how igaming trends are evolving and changing, and what the industry could expect in the future.
Operators – and in fact any businesses – must differentiate themselves from the competition and have their own identity. Not only in the offers they give, but also in the way their brand looks and feels as well as the level of service they offer to customers.
The igaming industry has always been a very competitive space. Depending on the data they're collecting and monitoring from their players, operators can evolve their personalised offers continuously if they have the right innovative technology that enables them to do so.
This ensures a player feels that they are receiving a hand-picked promotion or offer which takes into account their habits, spending amounts, locations and favourite games. That can be an incredibly powerful marketing tool for casino brands.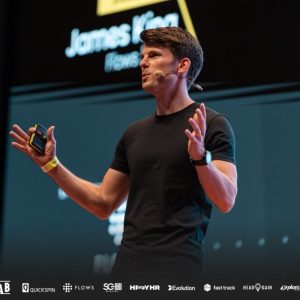 Navigating roadblocks
Currently, the main roadblocks for online casinos that prevent them from easily changing with the landscape come down to two factors.
The first is access to real-time data. It's not that the sites don't react or work for the players in real time, it's that some operators struggle to pull the data in real time. For example, if you wanted to create something that is based off a spin, or off a player's activity in real time, it either can't be done or it's hard to do it. Therefore, you need to make sure that you are passing data in real time and that you can allow access to that stream in real time.
The other factor that plays a big part in restricting innovation is the technology stack. A lot of the foundations architecture and technologies that businesses are built upon were originally put together decades ago. As the years have passed, these technologies have been built upon, had systems stuck on to them and had patches added for updates rather than full rewrites. This has caused tech debt.
The repercussions of this can be seen in long integration time frames, with it taking months to launch new products, and months – if not years – to certify to new markets.
Ultimately this will require the businesses facing these blockers to make some big decisions around their current tech stacks and systems. The answer doesn't necessarily need to be a complete rewrite, but some change is needed to adapt to more modern times.
An emphasis on marketing
Operators must take into account what's working and what's not.
There are a number of marketing strategies that are currently very popular – for example, if you go stateside, it's all about huge promotional offers with some of the largest risk-free bet amounts ever seen.
But to play in this market you need incredibly deep pockets. It's a very financially aggressive approach, but one being deployed to gain market share at speed.
In other more mature markets, we're seeing granular-level customer engagement and smart targeting of players to really gain their long term loyalty. Players are being segregated into more groups than ever before and then specifically targeted by these definitions, which is proving very effective.
Long-term landscape
In my opinion, gamification is really the key to long term buy-ins from users. Specifically within the gaming space, it's great to be able to get additional value from your entertainment beyond the slot spin itself. It creates great buy-in and dwell time if someone is not just working directly towards a win, but also working to achieve a higher loyalty level or jackpot unlock.
Another area I'm seeing gain traction – and one I see only growing in future – is the bet with and bet behind streamers option and community engagement. At the minute we're just seeing this in slots, but I also think there's a huge future for it within sports betting too.
For example, if you have your favourite footballer live, in-play betting with you and hundreds of other fans while watching your team play, it would be a great experience and add a whole new dimension to in-play and community or streamer betting.
For me, these will continue to be hugely important, especially as most areas of our digital life are now focusing on loyalty – from airline loyalty systems through to console gaming. To be rewarded for our time on a site is something we almost expect now.