Casino dashboard: July 2022
| By Kevin Dale
What does it mean to have a chart-topper and who really are the big winners/losers in the great game of slot production and distribution? Kevin Dale gives a review of the movers and shakers…
From a brief look at game performance this month, it seems that the restructure and rebrand of old Microgaming assets is yielding positive results. Other than another fishy spin-off from Pragmatic Play (Big Bass Splash), just two other releases made it into the top 20 – both outputs of the Games Global machine. Dragon's Cache from Spinplay Games popped up mid-month while its stablemate, Mask Of Amun, was there at month-end.
Top 20 games by distribution

powered by Advanced iFrame. Get the Pro version on CodeCanyon.
The freshly launched Games Global website introduces us to a couple of new studios: recent additions Circular Arrow in Canada and Infinity Dragon in the Far East are to be joined by Oros Gaming and Ino Games, whereabouts not yet revealed.
Their strategy has been relatively simple: take large stakes in new studios across the globe, provide them with development and marketing support and then, crucially, give them access to a vast distribution network. This allows these "independent" studios to focus on game quality, while the group ticks the quantity box too.
But how does this strategy actually fare versus competing make-or-buy strategies such as those of Evolution Gaming and Pragmatic Play?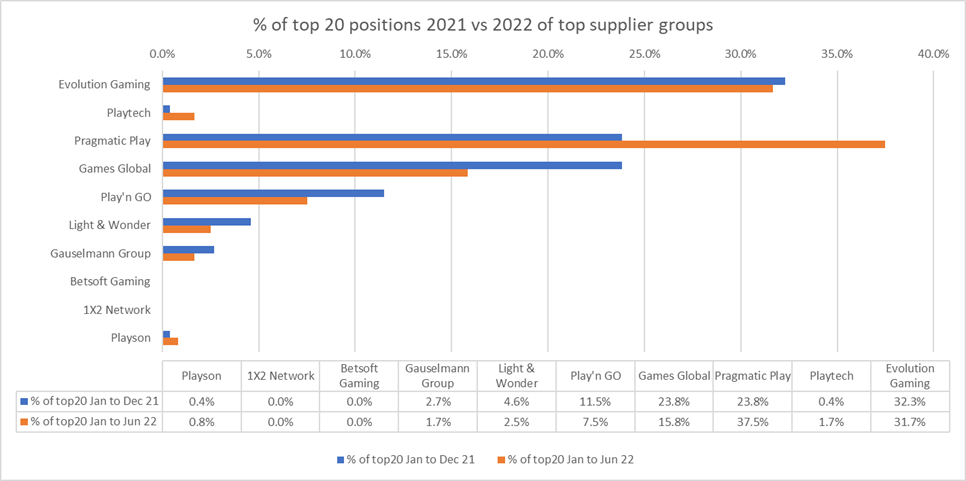 In brief, all three groups continue to dominate the charts yet Pragmatic Play have performed better over the last year – that is, if the objective is to secure a larger percentage of the top spots. Note that top positions as per our charts are based on the number of times a game is found across the universe of 2,000+ operator sites.

Biggest studio dealmakers

powered by Advanced iFrame. Get the Pro version on CodeCanyon.
But how have the big boys' shares of the long tail of all 24,000+ games changed, i.e. including those that don't hit the charts? If you remember back to February, we showed how there had been a massive 25% increase in studios and games over the previous year. This was accompanied, however, by a growth in the consolidation of games found from larger firms. Many more independents are entering the sector but their share of shelf space is decreasing. This next chart shows the production shares of groups vs others.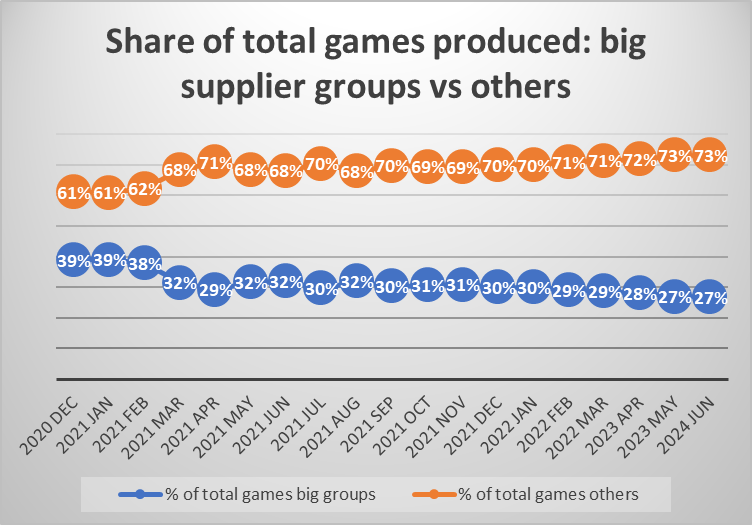 The great influx of new studios has meant that of the big suppliers we're focused on here, their share of total game content available has declined from around 32% to 27%. In keeping with the overall consolidation picture, however, their share of "shelf space", or their percentage of all games found across all game pages in contrast, has increased from 49% to 54%.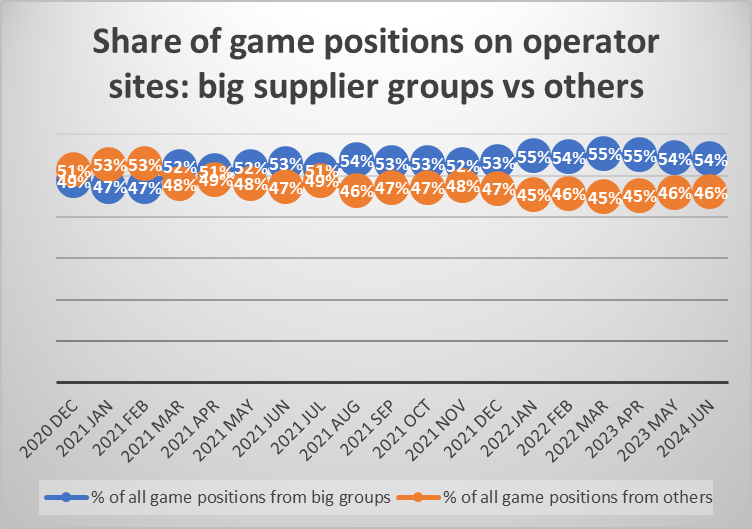 So, more newbie competitors yes, but not a concern to those at the top, who have extended their reach, albeit some of this coming via acquisition of smaller independents (such as Evolution Gaming acquiring Nolimit City, for example).
In the context of relentless market growth over the last 20 years, it's easy to pat ourselves on the back when many of our charts are all heading up and to the right. But are some growing faster than their peers? Our third chart below shows how Pragmatic Play and Playtech have tended to outperform some of the other larger competitors in terms of their improvement in "shelf-share" visibility of all games this year.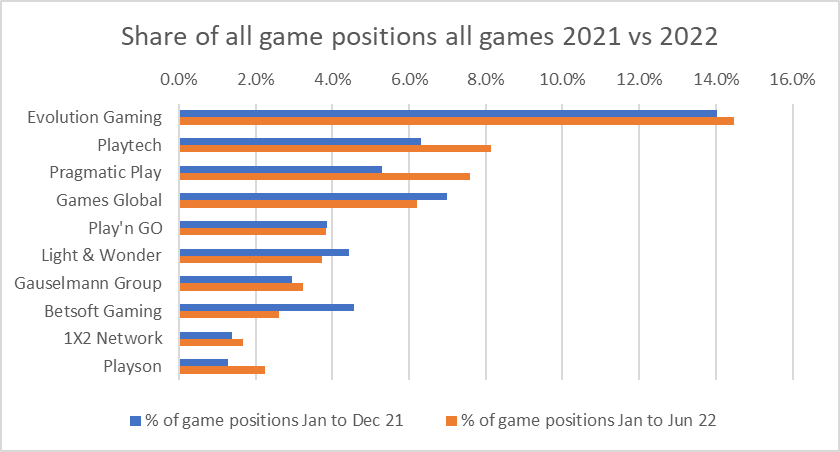 Finally, to add a bit more colour to how the big groups compare on all the dimensions of game production, distribution and game performance on site, our last chart gives a summary of the three measures in terms of percentage change this year vs last:
% change in unique games found (i.e. production);
% change in numbers of unique operator sites where their games are found (i.e. distribution) and finally;
the % change in how many game positions are found across all operator sites (i.e. game performance on site, itself a function of account management and game quality/longevity).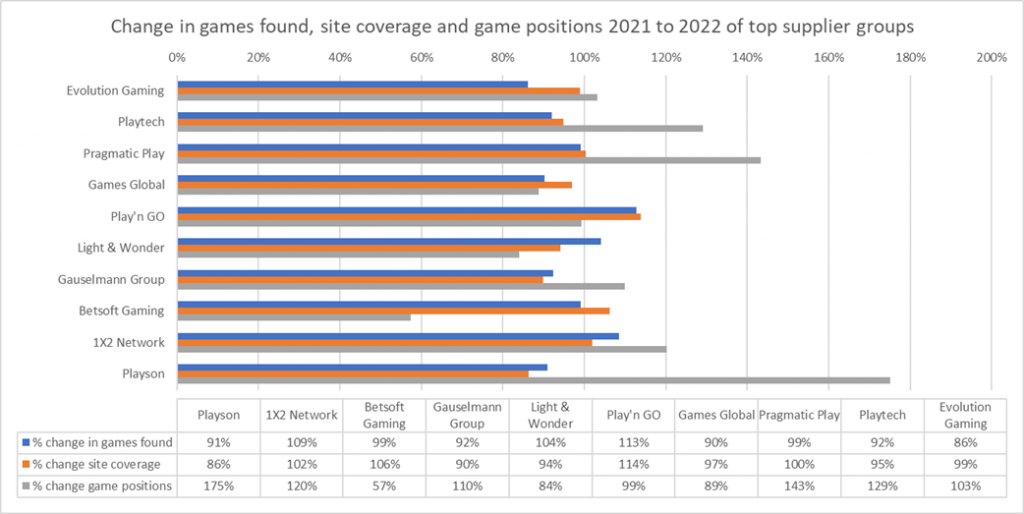 Any figure over 100% implies an improvement on 2021. While there's quite a bit of data to get your head around, and also a percentage change view can overemphasise those which start with a fairly low base, a couple of things do still leap out:
Play'n Go opened their product pipeline up more than most and have also managed to secure more site distribution in recent months. Echoing the percentage shares chart earlier, Pragmatic Play and Playtech (plus also Playson from a lower base) have outperformed many in the leading pack in terms of shelf space improvement.
Finally, on the deals front, Pariplay are the top aggregator in recent months, adding studios EvenBet Gaming, G and Apparat Gaming to their roster. Apparat, the new challenger studio in our space, founded by former execs of Bally Wulff, signed up not only Pariplay but also Relax Gaming and United Remote as distribution partners, taking them to top studio dealmaker position. Their "Gaming with a German accent" shows no angst regarding the local regulatory issues …. Prost!
Biggest aggregator dealmakers

powered by Advanced iFrame. Get the Pro version on CodeCanyon.
* Please note these are live charts which update every month so please ensure the month of July 2022 is selected in the drop-downs to match the analysis
**The interactive games chart at the top excludes live games and table games. Game rankings are determined by the number of game appearances on the casino homepages of more than 2,000 casino sites. To access many other charts including game rankings, live and table games, positions on subpages or to filter game performance by game theme, game feature or by operator type, get in touch with our partner, Egamingmonitor.com. Egamingmonitor covers 40,000 games, 1,300 suppliers and 2,000+ operators.
***Data on deals by month was collected from April 2020 onwards and the rolling chart reflects current dealmaking performance, i.e. how many deals were signed over the last six months. Note that only deals either a) on company websites or b) in the gaming press or c) reported to us by studios and aggregators, are collated. Deals between studios and aggregators (and aggregators and operators) from all time are available via Egamingmonitor.com.