GR8 Tech: fuelling the gaming platform race
| By Laura Gumbrell
|

Reading Time:

6

minutes
The gaming industry's appetite for the next big thing is growing by the day. With an incessant need for quick adaptation, it's no longer a case of operators handling everything in-house. So how do operators achieve effective scaling while staying in pole position in the market? Evgen Belousov, chief executive officer at GR8 Tech, believes the company's igaming solutions are the answer.
"To be greater tomorrow"
According to a report by Ibisworld, the gambling and gaming industry is in the top ten for 'fastest growing industries' in the world. With gaming companies using a concoction of up-to-date technology platforms, innovative ecommerce solutions and exciting entertainment for players, it's not surprising that it's found its way onto the list. However, it's arguably high-quality tech platforms that keep the revenue flowing, especially since the demand for online gambling is higher than ever.
So much so that turnkey solutions and platform services are slowly becoming a key cog in the B2B gambling machine. With solutions that are simple and straightforward, operators can focus on streamlining their operations and scaling the business up instead of wasting valuable time on manual backend processes.
The birth of great tech
One of the biggest challenges for operators is finding igaming platforms that can scale as they grow. Failing to do this and these platforms will fail at the first hurdle, causing detrimental performance issues that affect the player experience. Pair this with the ongoing challenge of poor integrations between modules, often sourced from different vendors, in the backend – and an operator is sure to see lower player engagement and drop-off in retention rates.
To address this challenge upfront, GR8 Tech came up with two major solutions. One is ideal for new market entries, while the other is perfect for igaming professionals looking for a highly-customisable solution to be integrated into their existing ecosystem. Both of them have the all-in-one igaming Platform at their core – a flexible, scalable, modular tech that successfully handles a 99.95% uptime, 54,000 wallet transactions per second, 20,000 logins a minute and 80,000 sports bets per minute.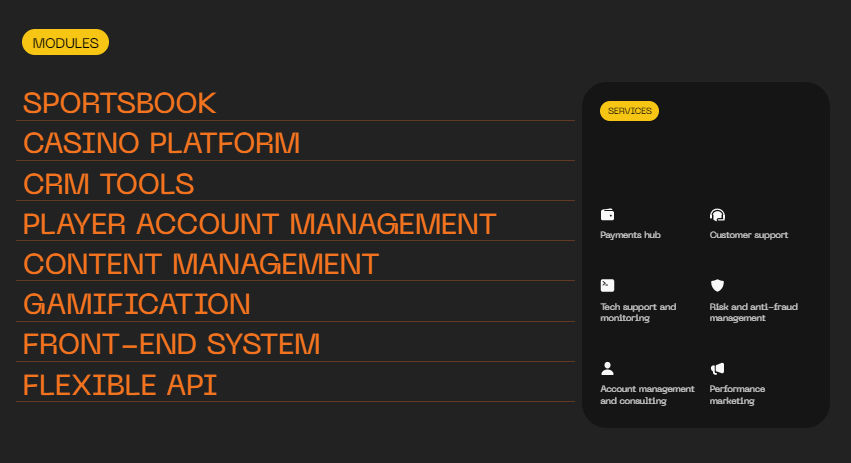 The platform is bolstered by GLI19 and GLI33 certifications, as well as cloud technologies from strategic partner AWS – a mix of the industry's highest certifications to keep it up to date with regulations globally. The platform currently serves GR8 Tech clients in 15 markets worldwide, including the UK, Peru, and several others, including Africa.
Evgen Belousov says the key to GR8 Tech's strategy is becoming a "lifetime partner" to their clients, not just a short-term fix that so many B2B partners can be.
"What we offer is 100% guarantee of good service over a long period of time. We don't want to have 100 average clients with average service. We want to give excellent service to 10 companies. This is our capacity. We don't want to become a mass-market product; we want all of our clients to be completely satisfied."
"Every client will be cared for from all sides to give them one turnkey solution that will allow them to operate comfortably, allowing us to grow together for a long period of time."
Now, this approach shows some dedication to become front and centre of the solution-driven industry.
Scaling up with GR8 tech
GR8 Tech keeps operators ahead of the curve by offering data-driven insights at the click of a button. With this game-changing feature alongside quick and easy integrations that require little to no work from developers, it's a big improvement on current offerings out there.
Belousov is passionate about the level of personalisation they offer with their solutions. "We can give our clients the modification tools to customise their sports margins, customise the front of their product, customise their applications – we can do whatever modifications they need. And we are ready to hire and set up operational teams to allow them to do this."
What few B2B technological providers pay attention to is the operational side of business – and that's where GR8 Tech paves the way. In addition to technology solutions, the company offers an operational solution for effective business management. It includes things like iterative product improvement according to the dynamic needs of the client, customer support, risk management and client retention management – a full package to support the business in any way throughout our cooperation.
"Managed live-ops: an ace up the technological sleeve"
Whether it's from insights gained from three decades of the clients' operational history, or simply from knowing the market, it's clear that for the team at GR8 Tech the power behind its product is knowing that it is solving operators' biggest challenges.
"We want to allow operators to succeed without employing large technical teams," Belousov says, stressing that this sort of business structure often results in "a bottleneck funnel" in terms of integration. "We see companies wasting time on new CRM systems, new analytical systems, new affiliate programmes and so on and so forth."
"We want to allow our clients to do what they actually want to do. We have enough staff to do this in parallel, rather than the client needing to wait for a platform provider to play catch-up. That's why we are looking for big operational companies to become our clients; they already have the resources, they know the businesses, they know what they want and don't want to wait."
Regulation: a marathon, not a sprint
It's clear that the team at GR8 Tech understands the speed at which it needs to work for its clients to stay ahead of competitors. But like everyone in the industry, regulatory changes mean this momentum must be maintained.
"As we continue to grow and improve our solutions, our certifications will grow as well. From the management side, it's a standard process. We need to manage our existing certifications, existing relations in the countries where our clients operate."
Making sure GR8 Tech is helping operators stay compliant is paramount to Belousov and that's why the team continuously updates the platform to ensure it hits all the regulatory demands of each market.
"Of course, regulations are a never-ending story – they change all the time," Belousov says. "But our in-house compliance team monitors any changes in the industry and prepares our platform for any new regulations globally."
Maintaining the top-tech position
Getting GR8 Tech to the global B2B market is one thing but finding success is another. The key to succeeding? Offering solutions that can actually deliver on their promises, and building meaningful relationships with potential customers.
Attending tech conferences and seminars can be a great way to stay informed and make connections in the industry, and with over 40,000 attendees, what better place was there to promote the GR8 Tech name and get to know your customers than ICE London?
Belousov said that the team at GR8 Tech went to ICE 2023 with a mission – and they went above and beyond accomplishing it. The team had a clear objective: not only were they getting the brand out there, they were quietly honing in on their strategy while doing so.
"At this ICE, we were walking around and meeting B2B companies like Betconstruct, Softswiss, Kambi and Everymatrix. And we just analysed what actually works, how do they acquire their customers, how do they process them? Do we want to replicate some things or do we want to operate completely differently?"
For GR8 Tech it was more than just a trade show, it helped them understand their position in the market. Belousov says, "After ICE we found ourselves saying to each other, yes, we are right. Our strategy is good. Our strategy is clear for us internally, let's just focus and explain to the market and say to the market what we do. Where is our unique selling point? What is our unique selling proposition? Let's show everyone."
It's clear this is only the beginning for GR8 Tech. With years of experience under its belt, an innate passion for the igaming business, and a sustainable long-term approach, it should be the change that all operators are hoping to see. GR8 Tech is ready – are you?
Evgen Belousov is CEO of an international technology solution company GR8 Tech. As CEO, Evgen oversees business development, performance, and global expansion. He works closely with marketing, product, retention, billing, and business analytics teams to execute the company's strategy and achieve its goals.
Evgen is highly skilled in high-risk management practices, revenue generation processes, and gambling products and tech solutions for the gambling industry. He is committed to driving innovation and growth in the iGaming industry, and is passionate about helping iGaming operators scale their businesses and achieve sustainable measurable success in any regulated market.