iGB partners eGaming Monitor for unique casino insights
| By Stephen Carter
iGB has signed a content partnership with industry consultancy eGaming Monitor.
The deal will see live and interactive content from eGaming Monitor featured on the relaunched iGamingBusiness.com website.
The exclusive content includes a Casino Dashboard featuring charts such as Top 20 Slot games by Distribution and Top 10 Studio/Aggregator Dealmakers this Month. The latest edition with data and insights from December 2020 is available now on iGB.
"Adding unique data from eGaming Monitor to our publishing, exhibitions and education services allows us to broaden further our offering. It enhances our new website and gives our digital readers content that is highly relevant", said Stephen Carter, iGB editorial director.
"These guys have the big picture of who's making deals with whom and which games are distributed across which operators. It's powerful stuff and we're delighted to be showcasing it across the site."
The content allows studios and aggregators to see which suppliers are leading the way in terms of deals, and which games are attracting the biggest audiences. This allows users to track market shares and benchmark their performance. The full set of 80+ interactive charts, available via subscription, powers decisions on sales targeting, account management and game design.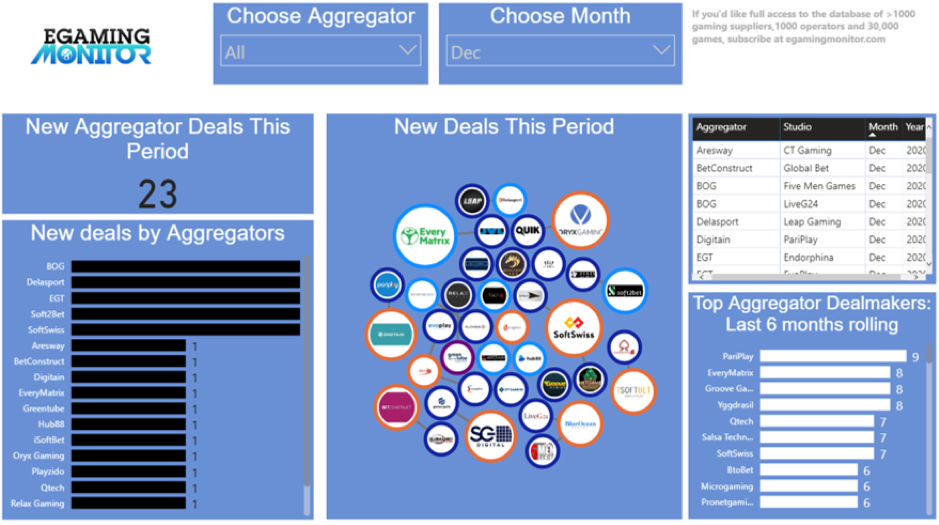 Kevin Dale from eGaming Monitor said: "We monitor 30,000 games from 1,000 suppliers across 1,000 operators and offer unique insights into sales, distribution and game performance."
Co-founder Joel Keeble added: "There's no better way to launch this service than via the world's biggest gaming media company."