RichAds: accumulate igaming revenue with affiliate marketing in 2023
| By Katrina Holmes
|

Reading Time:

6

minutes
iGaming and affiliate marketing has been inseparable for many years, mainly because the winning combination is proven to generate income in this fast-growing industry. Vasilii Gamov, chief marketing officer at RichAds, highlights the importance of iGaming promotion methods.
The main formats of RichAds' network include push, in-page push, direct click and pop ads and this was recognised in 2022 when it won the best igaming traffic source of the year. Gamov couldn't be happier with this award, and is looking forward to the year ahead.
Regions to bring leads for igaming in 2023
According to RichAds internal data and overall market analysis, igaming performance looks impressive in many geographies, including Asia, Europe and Latin America. If results from 2022 are anything to go by then the Asia-Pacific region is set to take the industry by storm again this year.
Gamov highlights the regions he thinks will be most lucrative, "To be more specific about 2023, first and foremost marketers shall test two regions — Germany and LatAm. For instance, at RichAds the approximate daily impressions amount in Germany is 33.9 million, in Brazil it's 35.2 million and Mexico it's 20.3 million."
The German market in particular is proving very successful, and with 50 more licenses in 2023, the market is coming on leaps and bounds. Delasport stats predict that the size of the online gambling market was estimated at €2.8bn in 2021 and will grow to €3.3bn in 2024 making it a very lucrative opportunity.
"The most promising region in 2023 is undoubtedly LatAm. The reasons are really clear – starting from the fact that the demand for igaming is really high. The numbers speak for themselves – the betting market size of this region will triple between 2021 and 2025.
"According to the NewZoo Global Games Market Report, the online gaming industry was estimated as $7.2 bn in 2021 in Latin America, which is a 5.1% overall growth rate. It's no surprise as new casinos constantly appear in the region and more online casino regulations are to come. For instance, Gaming Innovation Group recently signed an agreement with one of the biggest LatAm operators to boost the opportunities for igaming in the region."
This goes hand in hand with a NewZoo report that found that 9% of the most hardcore gamers are from Latin America. The analysis also claims that this audience is the most purchase-prone.
What's more, in 2022 Peru and Chile gambling markets became regulated so there's exponential growth expected there in the year ahead. These are good markets to focus on whilst waiting for the gambling regulation in Brazil to be accepted.
Working traffic sources for gambling and betting products
In 2022, Facebook and Google as well as ASO traffic were on top of the world for many marketers, despite some tough restrictions around gambling keywords. Though the more popular they become, the more competition there is, so everyone's in constant search for something fresh and new.
Gamov explained, "We offer alternative converting sources— push, in-page push, pop and direct click ads. They all can attract a great amount of clients to igaming websites if used properly, though there are obvious leaders for igaming products.
"With my experience, I can highlight two ad formats for gambling and betting offers — direct click (also known as domain redirect ads) and push ads. Although they may seem new and unknown to some, we can assure that those traffic channels are consequent in the results for the niche on our platform."
Direct click: #1 format for igaming
To get into the detail, direct click ads are reaching new heights in 2023 on the network, the demand for it on the RichAds platform grew five times during the whole year of 2022.
The reason behind it is simple — it's oriented only on highly engaged audiences, as it's based on their search requests. The traffic type is similar to SEO, though no keywords are needed and a simple link is required from a marketer.
"Basically, when a user is looking for a specific gambling website and makes a typo, they're redirected to an advertiser's webpage with a similar address. This way a marketer has zero chance of irrelevant leads — CR stats prove it; the rate is 10 times higher than that of other ad formats on the platform."
Push ads: #2 format for igaming
Another format to stick to in 2023 is push ads having shown high conversion rates and the best ROI for igaming products since 2018.
The affordable price per click, loyal content policy as well as largest traffic volumes are the main advantages of the traffic source that make it so lucrative for marketers. The main advantage is that there are no bans and restrictions when it comes to pictures and texts of the push notifications.
Looking further into 2023, a Safari browser update is expected, which means that push ads become visible to iOS users. This will lead to a surge of traffic, so marketers need to be alert in order to start new campaigns as soon as the update is launched.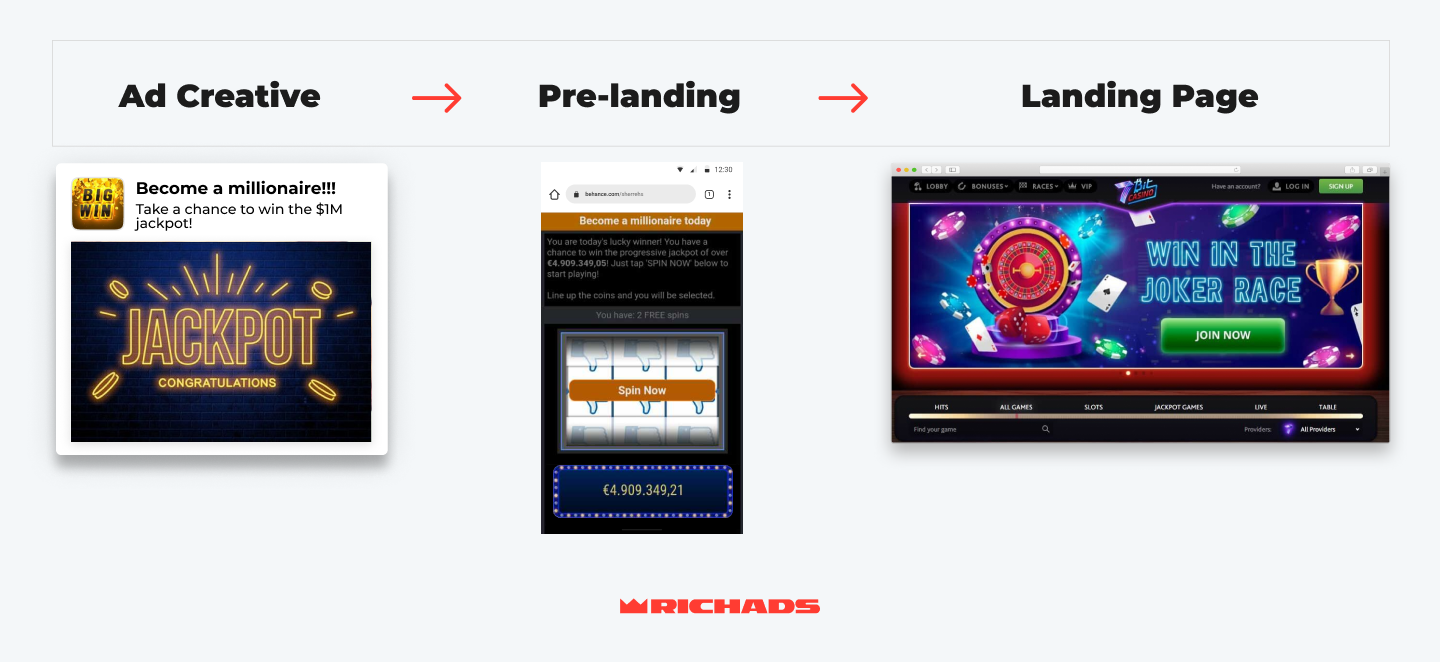 High-converting ad copy approaches for igaming
There are consistent approaches to gambling and betting creatives in the industry, like high-converting ad copy, and they're bound to stay in 2023.
"What we see at RichAds is how appealing bonuses and free spins on banners and texts are to our audience. But it's crucial to remember that it's not enough to catch the attention of a player, it's necessary to warm them up with an interactive pre-landing page and retain them with a simple registration form on the landing page itself.
"Another key way of making your ad copy more successful is personalization like "you won, take your bonus", a win-win hint, implying that anyone can earn and become a winner in your texts. Don't forget about time-limited headlines, they work greatly on impulsive players. Last but not least, storytelling is king, especially for igaming, a story about an ordinary man who got gold due to your casino site always brings results."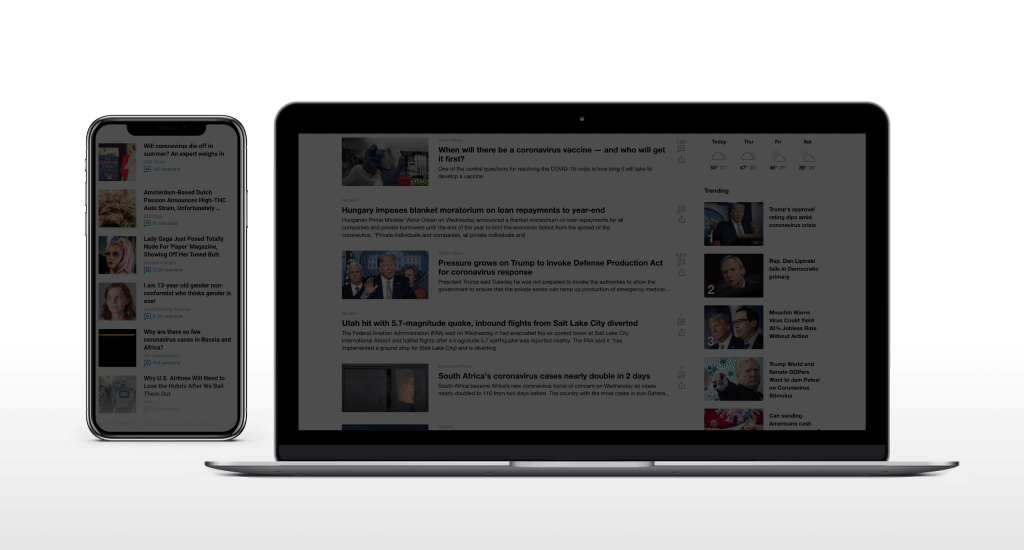 3 tactics to boost iGaming sales effortlessly with RichAds
As an adtech platform with 5 years of experience working with iGaming traffic, RichAds has the secret sauce to high-performing campaigns.
"First and foremost, the traffic quality is king for everyone, it doesn't matter which product you advertise, if the traffic is fraudulent, it doesn't count at all. We eliminate any possibility of fraud by verifying all our sources by AdScore and unique in-house prevention technologies."
1. Use carefully selected premium sources with proven conversion rates
"At RichAds, you don't need to run all the network sources to find your audience, the traffic is divided into four categories – Premium, Standard, Remnant and New – this way a marketer can target the sources on the desired budget and quality. We always recommend starting with Premium. The amount of conversions is significantly higher when it comes to this group of sources and they are tested and selected in advance."
2. Apply black and whitelists for a specific geography and product
"In order to reduce the conversion cost by two times and save your time, it's possible to ask an account manager to provide a white or blacklist prepared specifically for you. Those are a list of sources to target (or exclude) for your campaign to get the most efficient result."
3. Implement unique AI features and fully-managed campaigns
"AI optimisation features are the future of affiliate marketing as they allow marketers to focus on the things that need to be done manually and economize their time. There are smart tools on our platform that do all the optimisation for our clients which help get to the desired price per lead with no actions required from a marketer."
These features have proven to be hugely successful for RichAds and the numbers speak for themselves:
● Automated Rules function allows users to reach 9.3 million clicks and reduce CPA by 22% in several months.These are the rules that a marketer sets within their campaign to cut off expensive traffic automatically.
● It's possible to reach a up to 102% ROI with Target CPA implemented. This algorithm optimises a campaign without any manual actions while getting to the desired conversion price.
● The newest Performance Mode function helps a user to increase the conversion rate by 253% and decrease CPA by 79%. The feature creates lists of best sources for a campaign and turns off the worst sources daily with no tracker required.
Powering iGaming success
Experts predict a significant growth of the iGaming market in multiple different markets across the globe in the year ahead and that's why getting a strategy prepared beforehand is, according to RichAds, paramount for success.
"We hope that the predictions and forecasts will live up to marketers' expectations and bring the highest ROI and CR this year. With the RichAds product, you'll not only get geography and settings recommendations, but also exclusive AI features, personal manager and turnkey ad campaigns."
My name is Vasilii Gamov. I have been working in advertising for 12+ years. I have experience in igaming, finance, crypto, e-commerce, video production, health, beauty, and education industries. I've come a long way from scratch to c-level positions and launching new businesses.
Currently, I am a Chief Marketing Officer at RichAds ad tech holding. We help affiliate marketers to reach the highest results, publishers monetize their websites, and companies grow their performance.