Casino & games
Social casino: Q4 update
By Hannah Gannage-Stewart
8 minutes read
Adam Krejcik at Eilers & Krejcik Gaming unpacks an unseasonably slow Q4 for many social casino publishers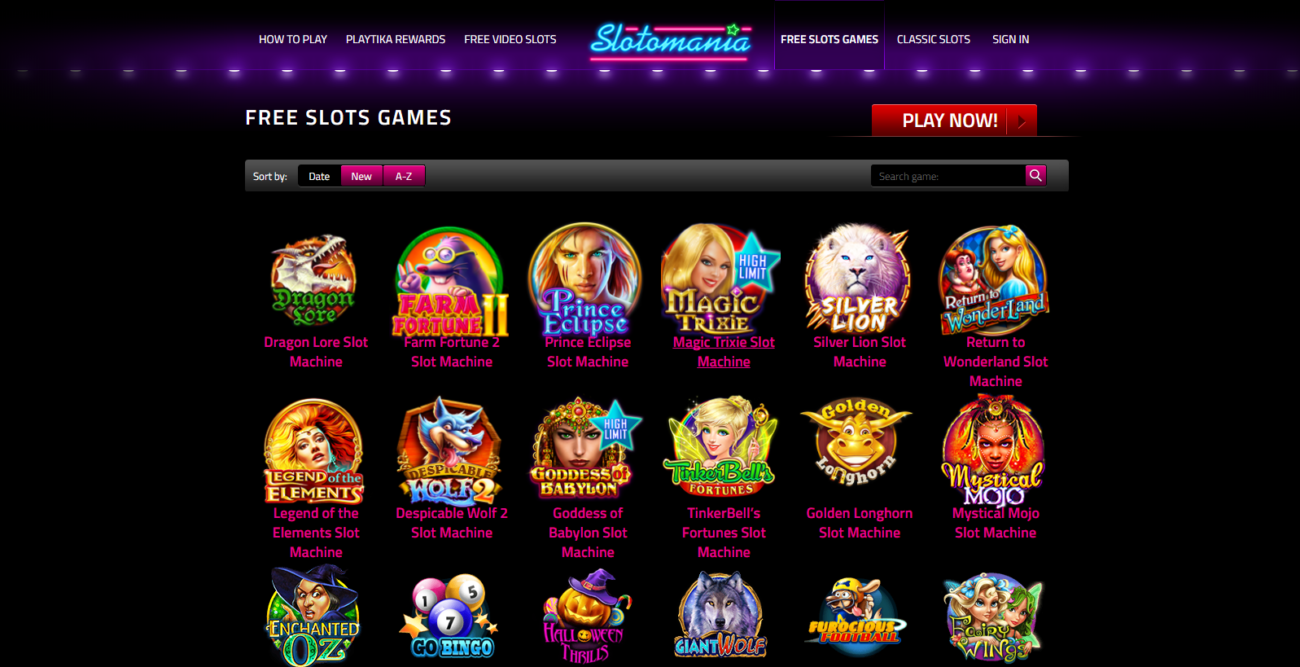 It was an unseasonably slow quarter for many social casino publishers, with Playstudios, GSN, and Super Lucky slipping down the rankings according to Adam Krejcik at Eilers & Krejcik Gaming
We estimate the global social casino game market grew by 3.1% q/q or 22.6% y/y in Q4 2017. We estimate that social casino revenues generated on Facebook were essentially flat, up 0.2% q/q, while mobile was up 3.9% q/q.
For CY17, we estimate the total market grew 19% y/y. While Q4 was a bit softer than many companies had hoped for, it nonetheless capped off a very strong year for the industry.
It's worth noting that revenue growth for the social casino market as a whole actually accelerated in CY17 up 19% versus 14% growth in CY16, which few people (ourselves included) would have predicted at the beginning of last year.
Performance among the top 15 social casino publishers was mostly flat to negative. Key standout performers this quarter included: Playtika, Huuuge Games, and Tencent.
It was a weak quarter for many companies with eight out of the top-15 reporting flat or sequential revenue declines, which is unusual considering Q4 is typically a seasonally strong period.
Key movement in the ranking charts from last quarter included: SciGames remains #2 publisher, but would have been in the #3 position behind Aristocrat if we included Big Fish + Product Madness (deal closed early January 2018), Huuuge Games has moved up to #7 position, Tencent up to #8 position, while Playstudios slipped to #9, GSN to #10, and Super Lucky has fallen out of the top 15 (Penn Interactive, which owns Rocket Speed has moved back into #15 spot).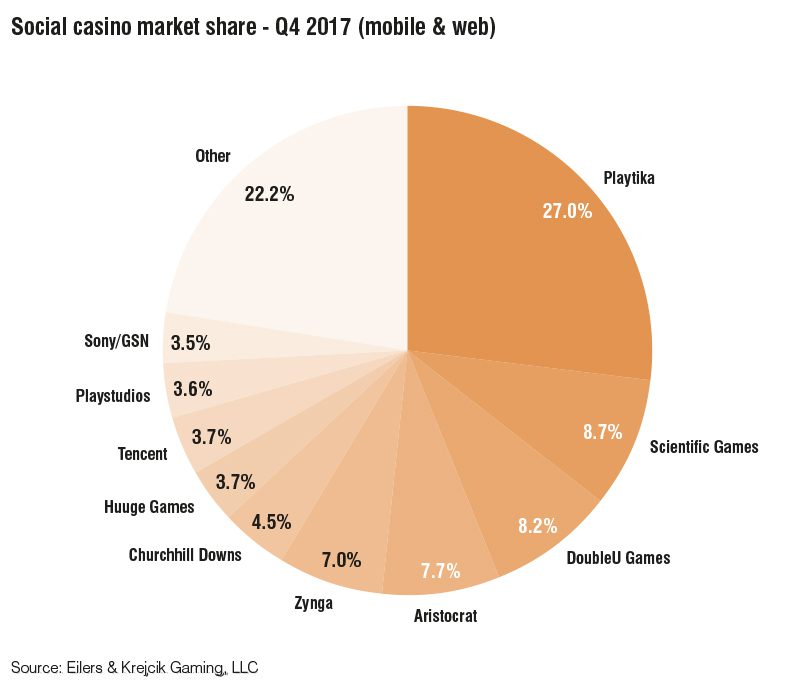 Company highlights
• Playtika, which is owned by Shanghai Giant Technologies, saw revenues increase 5.9% q/q and 30.8% y/y. The sequential improvement is even more impressive in the context of peer results and it speaks to some of the key new features and innovations that Playtika is introducing across its portfolio of games. We believe Slotomania and Bingo Blitz were the two primary growth drivers this quarter, while House of Fun appears to have had a weak period. In terms of KPIs, we believe Playtika was able to drive modest DAU growth this quarter, but the majority of revenue growth was driven by improved monetisation with blended APRDAUs now above 50c. Facebook and web revenues remained fairly constant, with user levels declining, but offset by higher paying conversion rates.
• SciGames Interactive saw revenues increase 1.2% q/q or 25.9% y/y. In terms of individual game performance, we believe Jackpot Party Casino and Hot Shots Casino were down sequentially, while Gold Fish Casino, Quick Hits, 888Fortunes, and Bingo Showdown (Spicerack Media) were the primary growth drivers. Finally, SG Interactive B2B social casino revenues were essentially flat and Blazing 7s (newest game) was negligible as the company is still experimenting with the app and has yet to do any paid marketing.
• DoubleU Games, which acquired Double Down Interactive (deal closed on June 1, 2017) remained the third largest social casino publisher worldwide. Overall it was a decent quarter for both Double Down and DoubleU Games, as they were able to reverse a recent downward trend. We estimate Double Down revenues on a standalone basis were up 3% q/q and 1% y/y, driven by its latest app Ellen: Road to Riches. We estimate DoubleU Games grew revenues 12% q/q and 6% y/y on a standalone basis due to DoubleU Casino. The focus and strategy of DoubleU + DDI has been on integration and cost cutting (most notably paid UA has been drastically reduced at Double Down), it remains to be seen whether this period will mark an inflection point.
• Product Madness (owned by Aristocrat) saw revenues decline slightly on a sequential basis following record results in Q3, but still up a very healthy 52% y/y. We note Product Madness remained the #2 publisher worldwide on mobile and on a pro-forma basis (including Big Fish) we estimate it would have had 12.2% market share of the social casino industry making it the definitive #2 player overall behind Playtika. The sequential decline in Q4 was largely due to weakness at Heart of Vegas (HoV), partially offset by growth in Cashman Casino. We believe, weakness in HoV was due to the significant content upgrades and new features introduced in Q3, which helped drive record monetisation and not cannibalisation from Cashman Casino.
• Zynga saw social casino bookings decline 2.9% on a sequential basis. Once again it was the slot division that saw the most weaknesses with mid-single digit sequential revenue declines for both Wizard of Oz and Hit it Rich. Zynga Poker appeared to be flat-to-down on a sequential basis, but still posted very healthy growth on a YoY basis and the game clearly remains in an upward trend. It's our understanding that Zynga has pulled back significantly on paid user acquisition (especially for its slots portfolio) and from a profit perspective the company and social casino division in particular is operating at some of its highest EBITDA levels seen in years.
• Big Fish Games. Social casino bookings were essentially flat on a sequential basis, but up 20.5% y/y. The YoY growth was largely driven by Big Fish Casino thanks to new features that have helped drive monetization and launch of Jackpot Magic Slots, which has allowed the company to expand and diversify its user base. Recall, Churchill Downs announced that it has sold Big Fish Games to Aristocrat (deal closed on January 8, 2018).
• Huuuge Games continued its impressive growth trajectory with revenues increasing 6.6% q/q or 138% y/y resulting in market share of 3.7% and moving it up to the #7 position in our ranking charts. Growth in Q4 was largely driven by Billionaire Casino and recent launch of Huuuge Casino on Facebook. We believe its marquee title Huuuge Casino was actually flat on a sequential basis for mobile only. Overall, Huuuge easily wins the award for "breakout performance" by a social casino company in CY17. Moreover, the company recently announced a successful series C round raising $50 million, which will mostly be used for user acquisition, company expansion and new title development, which should help the company enjoy further growth in CY18.
• Tencent's social casino division largely consists of a Chinese version of Poker called "Fight the Landlord". We note, Tencent is a global behemoth in PC and mobile gaming (it generated over $8bln in mobile game revenues in CY17), and its "social poker" games are just a very small portion of its overall business. That said, our checks indicate that it's popular Fight the Landlord apps have been showing significant growth over the past few quarters driven by an incredibly large user base to cross-promote from and a resurging Poker boom across mainland China.
• Playstudios saw revenues flat on a sequential basis, but still up a healthy 36% y/y. Growth in Q4 was largely driven by POP Slots, which continues to expand its user base thanks to unique and innovative gameplay features. We also believe this is the company's top monetising game with ARPDAUs comparable to some of its larger peers. The company's franchise game, myVegas, which underwent a major overhaul last year saw revenues decline on a sequential basis as it continues to experiment with the game economy and new features. Playstudios next major catalyst will likely be the launch of Royal House Slots (currently in beta), a game developed in partnership with King Studios (owned by Activision-Blizzard), which will look to leverage some of King's proprietary game content/art and its massive user base (over 300 million MAUs as of Q3 17).
• GSN/Bash Gaming (majority owned by Sony) had another soft quarter with revenues down an estimated 2.2% q/q or 8.4% y/y. The decline was largely due to weakness from GSN Casino, and to a lesser extent Bingo Bash, resulting in the company falling to the #10 position in our overall ranking charts. As we have highlighted the last few quarters, it's not entirely clear to us what type of strategic growth path Sony/GSN plans to embark upon in the social casino sector
• Murka saw revenues flat on a sequential basis, but still up a healthy 60% y/y. Year-over-year revenue growth was driven primarily by its three core titles: Scatter Slots, Infinity Slots, and Slots Era, while the sequential slowdown was largely due to a pullback in paid user acquisition spend as the company began to focus on driving sustainable profitability. Our discussions indicate the company reached record profitability levels with more than 20% EBITDA margins in Q4. Finally, Murka recently launched NatGeo Slots (its first major licensed IP) on mobile in early January and the game has got off to a strong start and should be a key incremental growth driver for the company in CY18.
• Other: it was a relatively challenging quarter, for Boyaa (-6.5% q/q), Super Lucky (-16.9% q/q) and Penn Interactive (-12.4% q/q), all of whom are still feeling the ramifications from the new Apple polies introduced last year. High 5 Games and Novomatic both remained in the top 15 and were able to grow revenues on a sequential basis, with H5G growing nearly 10% largely due improved conversion / monetisation from High 5 Casino on Facebook.
Eilers & Krejcik Gaming, LLC is a boutique research and advisory firm focused on servicing the gaming equipment, technology, and interactive gaming sectors within the global gaming industry. For more information about our firm and services please visit www.ekgamingllc.com