Inside Entain's acquisition of BetCity
| By Robin Harrison
|

Reading Time:

4

minutes
Paul Richardson joined corporate advisory specialist Partis early in June. Just weeks later he closed his first major transaction, when Entain snapped up BetCity to accelerate its Dutch reentry.
The importance of the Netherlands' igaming market was arguably highlighted by the operators that were ineligible for a licence. As a number of high-profile names shut off access to Dutch consumers, the financial impact they outlined showed how much business they had been doing, even without actively marketing to local consumers or offering services in their local language.
Kindred, for example, said earnings before interest, tax, depreciation and amortisation (EBITDA) would be cut by £12m each month it spent out of the market. When it finally secured a licence in June 2022, its share price jumped by around 10%.
Betsson faced a hit of around SEK25.0m (£2.0m) per month, and Entain said monthly EBITDA would be reduced by around £5.0m.
This, in turn, has created space for local brands to flourish. Local lottery Nederlandse Loterij, with its Toto brand, has been an early winner, as has casino monopoly Holland Casino. Joining these businesses on the podium is BetCity, a brand that only launched online in October last year, but seemingly came from nowhere to become a leading brand.
And Entain has now acquired the business for an initial €300m, in a deal brokered by Conexus Group's M&A consultancy arm Partis. For Paul Richardson, the deal came just weeks after he officially joined as a partner.
Richardson has significant experience, having worked on corporate strategy and development for Rank Group, and previously in investment banking across European, Asian and US markets. He has been involved in deals such as Gala's merger with Coral, William Hill's entry to the US and working on Galaxy Entertainment's expansion in Macau and beyond.
The BetCity deal is particularly impressive, with the total consideration rising as high as €850m depending on performance-based incentives – though Entain said it expects the price to come to around €450m. Regulus Partners' Paul Leyland noted that this price "represents one of the most rapid returns on effort seen in the sector", coming just nine months after its launch.
For Richardson, that price is indicative of "both the potential and the quality of the business", in the "phenomenal" Dutch market.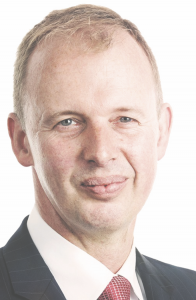 "The quality of the BetEnt business is first class," he explains. "The family behind it has been running arcades in Amsterdam for 30 years; they know the market, they know the regulator."
He says that in Melvin Bostelaar (chief executive) and Robert Koimaan (marketing director) it hired two people with a strong digital background. "They put themselves onto Kambi's sportsbook [and] the Oryx platform and did a deal with Evolution, so they came out with a really good product and built market share by being better than the others that were still working out how to do it."
In the fourth quarter of 2021, it has taken an estimated 20% market share, suggesting revenue of around €30m. Add in Holland Casino and Toto's market share, and that suggests just three licensees account for around three quarters of revenue.
This, Richardson argues, also influenced the purchase price, especially as the incoming controls on marketing will make it even harder for new entrants to catch up to the early frontrunners.
"Obviously there's room for the big European experts to be in the market, but Bet365 is in and is nowhere close to BetCity," he points out. "Tombola is licensed so Flutter can do something with that, but I think the marketing restrictions are going to make it more challenging to catch up.
"They can't go back to their old databases, and they can't acquire customers in the way BetCity did upon opening," he adds. "Cost per acquisition (CPA) will be higher, tools to acquire customers will be harder, [with the influencer ban coming in from 1 July]."
He points out that another operator has suggested the marketing restrictions pledged by minister for legal protection Franc Weerwind will result in an effective ban on above-the-line marketing, meaning the acquisition channels for newcomers will be significantly curtailed.
"I think this underlines why Entain did the deal," he adds. "That position is going to be very difficult to take away from, with a new product that's coming in nine months later."
This doesn't mean that a new, differentiated product can't secure a foothold in the Netherlands, he adds – though that's true of every competitive, regulated market. "The punter is always looking for something new," he points out.
But increasingly, the local market knowledge afforded by a business such as BetCity is central to most operators' approach to M&A, Richardson adds. Companies with the cash to do so can buy market share rather than putting in the sums required to build it.
"It's why M&A happens," he says. "You can't launch in multiple markets at any one time, but you can buy a business, with a good management team, that has proven it can launch successfully."
This also allows for synergies, when there is a central technology stack to migrate the newly-acquired businesses onto, as Entain is planning with BetCity, as it has done with Bet.pt in Portugal and Enlabs in the Baltics. Through the application of synergies, multiples can be reduced to single digits, something Richardson says listed corporates "will do every day of the week".
"Boards on the whole only let you carry on spending when they are confident you are doing it prudently, and getting out of the deal what you said you would. The Entain strategy and M&A teams have a strong record of successful acquisition and integration"
And with the deal coming just weeks after he officially joined Partis, it's a statement of intent for Richardson. "It's great to announce joining a business, by doing one of the best deals I've ever done two weeks later," he says.