Casino dashboard: March 2022
| By Kevin Dale
Love is dead and a fish is for life, not just for Christmas (...or Valentine's or Easter). Kevin Dale looks at casino game lifecycles alongside the usual top games worldwide and dealmaker charts.
It's been a year, almost to the day, since Piggy Riches Megaways (Red Tiger) first trotted into the charts and it's back. The only thing relevant that has happened since, is the launch of sister title Doggy Riches Megaways. Similarly, Hyper Strike (Gameburger Studios) is back too thanks to the recent launch of stablemate Hyper Strike Hyperspins.
New variations giving a lease of life to older titles is nothing new and always welcomed by game creators. It doesn't quite satisfy the same as the newbie achieving independent success, which Blueprint's Fishin Frenzy Fortune Spins did manage this month. There's still time though and by April the hyper spun doggy sequels may yet stand on their own hind legs.
Top 20 games by distribution

powered by Advanced iFrame. Get the Pro version on CodeCanyon.
Courtesy of the Microgaming distribution network, two brand new titles also made the charts: Aztec Falls (Northern Lights Gaming) and Adventures of Captain Blackjack (Just For The Win). Chart success is more likely when you have market access yet the games still need to perform. After all, these two studios still compete with a dozen associated businesses, including Gameburger Studios, which has achieved long term success with the likes of Hyper Strike and 9 Pots Of Gold.
From a clickbait perspective, you can't go far wrong with an Aztec/Coinfall combo and the genre busting promise of a Blackjack/Pirate Slot game will lead to try outs. The fact that the latter doesn't actually deliver on the combination of genres may mean though, that stickiness remains elusive.
With Microgaming currently restructuring its businesses, it will be interesting to see if this impacts on game distribution and performance over the next few months.
On the love front, we didn't produce a Valentine's Day chart as such, but a few nods to the romantically inclined studio directors…
Espresso Games, Spinomenal and Bgaming all produced Valentine collections or editions of existing games. Play'n Go seem to interweave calendar events into their game production processes better than most. Five scary titles for Halloween and three new romantic ones for Valentines Day. Love Joker, 15 Crystal Roses and Tales of Asgard: Freya's Wedding were all launched in the last few weeks and their performance looks good.
Next year, if they're brave enough, they may even try out a "Love Of Dead" title, which has the potential to flog their "…Of Dead" horse up into the charts. Let's not forget that horror and romance overlap nicely – see our Halloween and Valentine charts of old.
Inspired Entertainment launched Stacked Valentine Hearts only to see it outperformed by its own Big Fishing Fortune, so maybe it's a case of Fish 2: Calendar themes 0.
A fish is for life, not just for Christmas (or Valentine's etc.) yet not many fish live that long. Standard games follow the typical peak to decline curve with only a few slowing or postponing the decline part.
In this sense we should all be striving to produce the equivalent of a Greenland shark (272 years, according to Google). Shark Blackjack Bonanza anyone?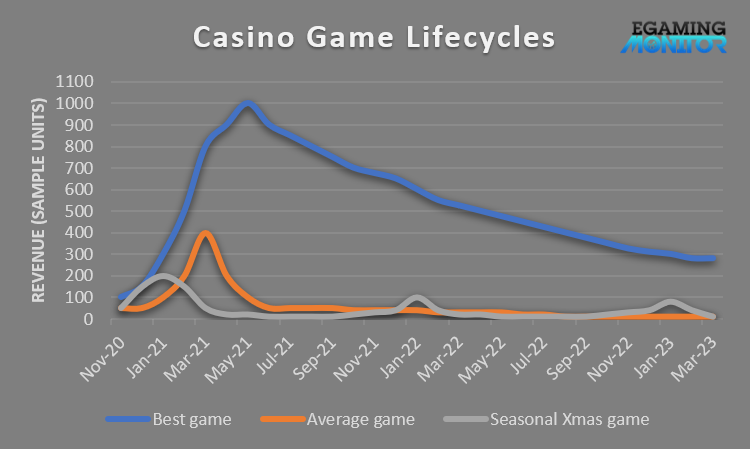 Yet seasonal games can be the exception. Some make it big such as Christmas Big Bass Bonanza. Many others follow a heartbeat revenue curve, as they're dusted off and rolled out annually, if only we remember to do so…
After a quiet January, dealmaking between studios and platform providers is back but still some way off the frenzied activities of 2021: more evidence of a maturing of our distribution network it seems.
Biggest studio dealmakers

powered by Advanced iFrame. Get the Pro version on CodeCanyon.
Slotegrator and Groove Gaming still top the charts for busiest aggregators over the last six months, while the hottest studios being integrated are now FBM Gaming and Caleta Gaming.
Biggest aggregator dealmakers

powered by Advanced iFrame. Get the Pro version on CodeCanyon.
Note that we're now adding the missing piece to our complex distribution network: aggregators by operator. With a clear picture of studios by operator, operators by studio, aggregators by studio, studios by aggregator plus of course games by operator by page etc., our full chart list is now augmented by a "keys to the castle" view of operator/platform provider relationships.
And the last word to those in war-torn need, if you're an operator or aggregator, looking to prioritise games or your next source of content, why not factor in country of origin to those decisions.
* Please note these are live charts which update every month so please ensure the month of February 2022 is selected in the drop-downs to match the analysis
**The interactive games chart at the top excludes live games and table games. Game rankings are determined by the number of game appearances on the casino homepages of more than 1,500 casino sites. To access many other charts including game rankings, live and table games, positions on subpages or to filter game performance by game theme, game feature or by operator type, get in touch with egamingmonitor.com. Egamingmonitor covers 37,000 games, 1,300 suppliers and 1,500 operators.
*** The unique games and studio charts are based on the wider dataset of more than 4,000 pages from 1,500 operator sites and also include all game types, including live games, table games, video bingo, video poker, scratchcards, crash games and more.
****Data on deals by month was collected from April 2020 onwards and the rolling chart reflects current dealmaking performance, i.e. how many deals were signed over the last six months. Deals between companies from all time are available via egamingmonitor.com. Note that only deals either a) on company websites or b) in the gaming press or c) reported to us by studios and aggregators, are collated. Deals between companies from all time are available via egamingmonitor.com.