Getting hands on with the future of live casino
| By Laura Gumbrell
|

Reading Time:

4

minutes
Levon Hambardzumyan, senior product manager and engineer behind CreedRoomz's first-of-its-kind live casino automation project Roba, explains the logistics of letting machines do the dealing.
Land-based casinos took a big hit during the pandemic, paving the way for the online gambling sector to thrive. This upwards trend is still growing, with everything from ewallets to artificial intelligence being implemented in online casinos.
Gaming companies have proven time and time again how agile they can be in uncertain times. And with online adopting and adapting to technologies, the attention turns to land-based to see how it can innovate in order to continue to compete.
Leading the way in the latest advancements is CreedRoomz, whose senior product manager, Levon Hambardzumyan, believes artificial intelligence and robots are the next step in the digital transformation of the casino floor.
Introducing Roba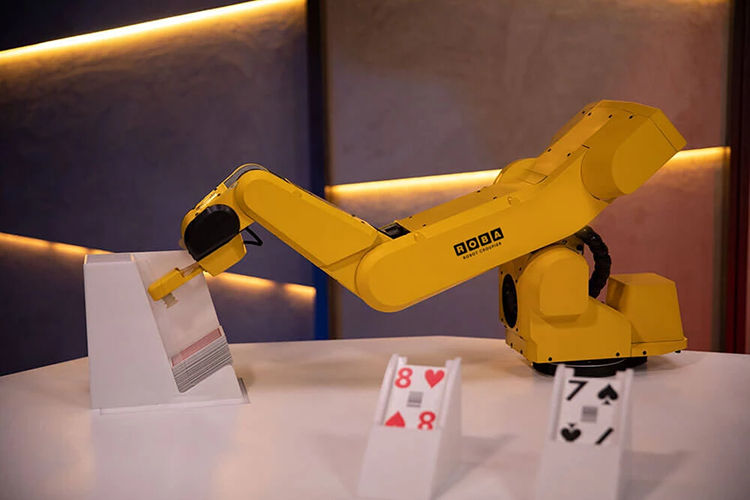 Roba is a robot croupier that "performs all the actions and responsibilities of a dealer", Hambardzumyan says. It launched late last year, and is trained in dealing cards, collecting cards from the table, loading them into the shuffler for the next round and demonstrating the outcomes of games.
Currently, CreedRoomz has launched Roba across its baccarat and Dragon Tiger games, with plans to launch for blackjack later this year.
"The robot does everything clearly – visibly and transparently for the player." Hambardzumyan explains. "This is an innovative tool that optimises the work in a live casino studio by excluding human errors, increasing accuracy in dealing, helping operators reduce expenses on hiring staff for a private hall, and providing an automated 24/7 gaming experience."
During the pandemic, the human factor of every industry was challenged, and many businesses turned to automation in order to streamline operations and reduce costs.
Hambardzumyan recognised that there was a gap in the gambling vertical for an automated, robotic croupier, and that "in this era of innovation, the casino needed to innovate, too".
AI tech has become a hot topic across most industries over the past 10 years, with lucrative advantages.
Questions around the rising costs of employing casino dealers and the introduction of robotic ones in the gambling market were raised during a panel at Global Gaming Expo (G2E) Asia back in 2017. Since, AI technology has been trialled throughout Asian casinos – particularly in the industry hubs of Singapore and Macau.
With this in mind, Creedroomz conducted an initial launch on the continent, as Hambardzumyan regarded this as "the region that enjoys innovation the most".
"We have plans to integrate more existing games while being open to custom game requests," he continues. "One of the main features, however, is that for any game a dealing time can be fixed. Unlike a human dealer, Roba will perform the dealing depending on the time set by a partner.
"As this was a unique concept, there was no experience we could rely on. It was a difficult, binding and, at the same time, inspiring challenge. After understanding the problems, we managed to find solutions and implement this innovative idea in 14 months."
Is human communication replaceable?
Despite the obvious operational advantages of using robots in the gaming sphere, human-to-player communication that comes with an in-person dealer in a casino setting is arguably one of the main pulls for guests into land-based casinos.
Creedroomz, acknowledges this, and stresses that Roba is not a replacement for human interaction.
"While robots can enhance the level and quality of players' entertainment and provide a unique player experience, they can never replace the impact and role of the human factor in a live casino."
"However, robotic technology has already taken its place, creating a very attractive market based solely on automated games. In other words, Roba has already assumed a special place and role, but in no way will exclude the possibility of a human factor."
Hambardzumyan says Creedroomz is committed to exceeding the initial novelty factor of Roba through constant innovation and updating of the processes. It forms part of the business' continued efforts to enhance player experience.
"On the other hand, playing with a robot croupier is an absolute innovation and revolution in the world of online casinos," he says. "Playing with a robot croupier can be a new, very natural next step in our reality, and at the same time a very 'exotic' experience.
"Imagine how many people will be attracted by the fact that instead of the dealer there will be a robot sitting in front of them performing all the actions of the dealer with clear and beautiful movements?"
The future for Roba
It may have just launched a potentially huge innovation for land-based casinos, but Creedroomz isn't resting on its laurels.
"The automated dealer will stay in CreedRoomz's casino and we have already thought of ways to enhance it," Hambardzumyan says. "Our next step will be the addition of a camera to Roba. This will take the video streaming to another level, which again will be an interesting point of interaction with our players."
Roba was on display at iGB Live!, which Hambardzumyan saw as the perfect opportunity for its European debut.
"iGB Live! was a good platform for us to run Roba live for the first time. Here, all the participants and current and future partners were able to see Roba in all his charm and power," he says.